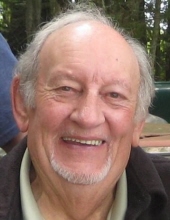 Obituary for James 'Jim' Jacoby Sr.
James 'Jim' Jacoby, Sr., 73, of Irma, died Friday, February 19, 2016, at his home.

Jim was born October 22, 1942. He was the son of the late Fred and Elizabeth (Oertel) Jacoby and graduated from Marshfield High School. Jim enlisted in the United States Air Force and was stationed in Turkey and in Florida. Jim married Mary Ellen Hahm on September 16, 1961. Together they owned and operated several businesses including a restaurant and a hardware store. Mary Ellen preceded Jim in death on March 7, 2014.

During retirement, Jim kept active by selling promotional products. He enjoyed much of his time down at the campsite having campfires with family and friends. Jim also greatly enjoyed being "Papa" to his three granddaughters. He enjoyed fishing, hunting, gardening, watching football and an occasional good game of cribbage. For 27 years, Jim made his home by the lake near Irma, WI.

Jim is survived by his sons, Jim (Maradee) and Kevin (Laurie); his granddaughters, Stella, Mariah and Scarlett; two sisters, Arlene Gehrke and Charlotte Jackson; two brothers, Bob Kellner and George Kellner; one sister-in-law, Lorraine Jacoby; and several nieces and nephews. Jim was preceded in death by his wife, Mary Ellen; his parents, Fred and Elizabeth; sister, Joyce Baxter; brother, Harold Jacoby; sister-in-law, Nancy Kellner; brothers-in-law, Orin Gehrke, Lee Jackson and Pete Baxter; and nephews, Rodney Kellner, Mick Kacer and Randy Jackson.

A memorial service for Jim will be held at 5:00 P.M. Friday, February 26, 2016, at St. Stephens United Church of Christ, Merrill. Visitation will begin at 3:00 P.M. Friday at the church. The Taylor-Stine Funeral Home, Merrill, is assisting the family with arrangements.

In lieu of flowers please make donations to Wisconsin Public Television.
Read More
Previous Events
Visitation
St. Stephens United Church of Christ
903 E. Second St.
Merrill, WI 54452
Service
St. Stephens United Church of Christ
903 E. Second St.
Merrill, WI 54452