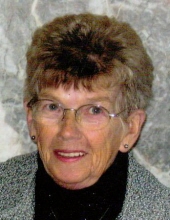 Obituary for Helen C. Olsen-Zimmerman
Helen C. Olsen-Zimmerman, age 86, of Merrill, formerly of Fifield, passed away peacefully on Sunday, February 7, 2016, at Pine Crest Nursing Home, Merrill.

Helen was born September 7, 1929, in Duluth, Minnesota, daughter of the late Albin and Hildur (Vickstrom) Erickson. Her first marriage was to George O. Olsen who preceded Helen in death on February 6, 1999. She then married Jack 'Jake' Zimmerman on October 25, 2006. He survives.
In her younger years Helen worked as a nurse in Grand Marais, Minnesota, and occasionally drove the ambulance. When Helen moved back to Wisconsin she worked part time at the Fifield Post Office. She loved working in the garden, knitting and crocheting, cooking, and making wine. Helen was always willing to stop at a garage sale looking for treasures.

Survivors include her husband, Jack 'Jake' Zimmerman, Merrill; two daughters, Linda (Allan) Rudeck, Duluth, Minnesota, and Carol (Jeffrey) Thompson of Georgia; one son, Larry (Mary Beth) Olsen, Duluth, Minnesota; eight grandchildren; and sixteen great grandchildren. Besides her first husband and parents, Helen is preceded in death by two siblings, Ailee Anderson and John Erickson.

A private family celebration of Helen's life will take place this summer in the Fifield area. The Taylor-Stine Funeral Home, Merrill, is assisting the family.

Online condolences may be made at www.taylorstinefuneralhome.com.
Read More