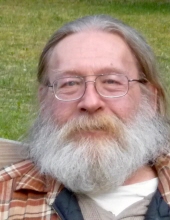 Obituary for Peter Frederick Braun
Peter Frederick Braun, of Merrill, was born January 22, 1951, and passed away peacefully on January 12, 2016.

He was preceded in death by his father, Dr. William E. Braun of Merrill. Survivors include his mother, Naomi Braun; siblings and spouses, Daniel Braun, Gary and Nancy Braun, Dick and Janet Braun, Sandy Braun and Vanessa Carr; nephews and nieces, Michael, Erica, and Aurora Braun, Andrew Braun, Jennifer Braun, Justin Braun, Chelsea Braun, and Nathan Braun Lewis.
Peter attended St. John Lutheran School, Merrill Senior High School, and the former Holy Cross Junior College in Merrill. He loved the family cabin where he out-fished the entire Braun Family. He enjoyed music, electronics, cars, boats, and his many collections. In his late teens, Peter was diagnosed with schizophrenia. He spent his life living independently under the wonderful care of Marathon County Social Services and at the Artisan Living Center in Merrill. Peter spent as much time as possible with his loving family and with his mother Naomi at her home in Merrill. Peter was dearly loved by his family and friends. He touched all of our lives in unique ways, and taught us things that no one else could. We are so grateful to have had him in our lives.

A gathering of family and friends to remember Peter will be held from 3:00 PM until 5:30 PM on Saturday, April 30, 2016, at the Taylor - Stine Funeral Home. Burial of Peter's cremated remains will take place at a later date in Merrill Memorial Park Cemetery.

Online condolences may be made at www.taylorstinefuneralhome.com.
Read More