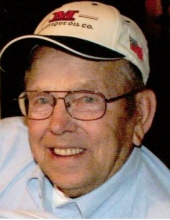 Obituary for LaVerne H. Henrichs
LaVerne H. Henrichs, age 86, of Merrill, passed away Thursday, July 20, 2017 under hospice care at Aspirus after a fall at home.

LaVerne was born March 1, 1931, in Merrill, son of the late Archie and Adela (Luedtke) Henrichs.

By all measures, LaVerne lived a full and successful life. He laughed easily, and was never intimidated by life's challenges. His loving wife of 63 years, Olga, and his family were always his first priority, but he also made time for his many friends, neighbors, and his community. He served his country in the National Guard and Army Reserves, he served his community as a 32nd degree Mason with the Virginia Falls Lodge in Merrill, and as Chairman of the Town of Harding. He was instrumental in crafting and passing new state laws protecting public access to Wisconsin lakes, rivers and streams, and was the leader of the community effort to create the Bill Cross Rapids Wildlife area and protect miles of wild Wisconsin River in Lincoln county.
LaVerne was a superb dairy farmer, woodworker, deer hunter and lifelong entrepreneur. He was also an avid reader and lifelong student of history.

LaVerne leaves behind a loving family which includes his wife Olga (Hojan) Henrichs, daughter Teresa (Randy) Konkol of Knowlton, son Joseph Henrichs of Merrill, and daughter Susan (Kevin) Shibilski of Merrill. LaVerne's brothers, Kenneth, Dennis, James, Philip and Thomas, and sister Janet passed before him. Laverne's grandchildren Michelle (Wesley) Lemke of Knowlton, Jennifer (Chris) MrDutt of Knowlton and Katie ( Ben) MrDutt of Menominee will miss his laughter and stories. His eight great-grandchildren, Haley, Chloe, and Spencer Lemke, Jordyn and Mason MrDutt, and Caleb, Olivia, and Adelynn MrDutt, who giggled at his teasings at family celebrations, will also miss him.

A private family service will be held as per LaVerne's wishes. He will be interred at St. Paul Cemetery. Taylor-Stine Funeral Home & Cremation Services, Merrill, is assisting the family with arrangements.
Read More
Events