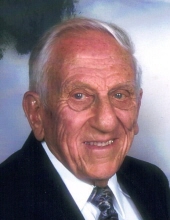 Obituary for Clifford David Livingston
Clifford David Livingston, 102, of Merrill, passed away on Wednesday, January 20, 2021 at Aspirus Wausau Hospital.

Clifford was born July 10, 1918 in Merrill, son of the late Clifford R. and Elsie (Baruch) Livingston. At the time of Clifford's birth his father was serving in France as an infantry officer during World War I. Clifford attended Merrill schools. In high school he won the state championship in extemporaneous speaking and was the president of his senior class. Clifford then went on to attend the University of Michigan where he was a member of Pi Lambda Phi and the yearbook staff. He received his BA degree in 1940. Clifford then attended the University Of Wisconsin Law School where he was on the staff of the Law Review and was named to the Coif Law Honor Society. Upon graduation, Clifford was admitted to the Wisconsin state bar in 1942.

In 1942, Clifford went on active duty with the U.S. Navy during World War II. He served aboard the AP122 in both the Atlantic and Pacific theaters as navigator, carrying 5000 troops with a crew of 500. Clifford was honorably discharged in 1946 as a Lieutenant Senior Grade.
Clifford returned to Merrill to assume management of Livingston's, Inc. He married Joyce Boelter on February 4, 1955. She survives. Clifford is also survived by one son, Richard (Catherine) Livingston; two daughters Kathleen and Louise Livingston; four grandchildren; two great grandchildren; and a sister, Marjorie Greenberger. Besides his parents, Clifford is preceded in death by a son, Michael Livingston in 1985; and a sister Helene Byrns.
Clifford was very active in the Merrill community. He was past president of Merrill Rotary Club, the former Holy Cross Hospital Board of Directors, and the Merrill Area Chamber of Commerce. Clifford was a former board member of T.B. Scott Library, Merrill Federal Savings & Loan, and the Lincoln Hills School Citizens Committee. Clifford was a lifelong member of the Veterans of Foreign War, and was a long time member of the Universalist Unitarian Church.

After liquidating Livingston's Department Store, Clifford and Joyce retired to Homosassa, Florida in 1984. He served on the board of the Sugarmill Woods Civic Association, and was a member of the Sugarmill Tennis Club. While residing in Florida, Clifford and Joyce traveled extensively in the United States, Europe, Asia, South America, and Australia. They moved back to Merrill in 2003.

A private family memorial service will be held at a later date. Burial of Clifford's cremated remains will take place this summer in Merrill Memorial Park Cemetery, with graveside military honors. The Taylor-Stine Funeral Home & Cremation Services, Merrill is assisting the family. Online condolences may be made at www.taylorstinefuneralhome.com.

The Livingston Family has suggested that memorials be directed to the Merrill V.F.W. Post 1638 or the local charity of your choice.
Read More