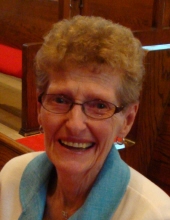 Obituary for Alexandra "Sandy" Zettler
'DON'T CRY BECAUSE IT'S OVER, SMILE BECAUSE IT HAPPENED'

Alexandra M. 'Sandy' Zettler, age 80, of Merrill, passed away on Wednesday, September 14, 2016, under the care of her loving family, the Pine Crest Nursing Home staff, and hospice care, after succumbing to injuries sustained while doing what she treasured most – walking downtown.

Sandy was born January 1, 1936, in Marshfield, daughter of the late Paul and Lucile (Hanna) Steger. After graduating from Columbus High School in Marshfield, Sandy did pediatric nursing training at a hospital in Chicago working with orphans. She married Theodore 'Ted' Zettler on July 30, 1955, in Marshfield. He preceded her in death on June 10, 1989. Sandy and Ted owned and operated Zettler's Bakery in Merrill for 20 years. At the time of her retirement, Sandy was employed at Rite Screen in Merrill.

Sandy was a devoted member of St. Francis Xavier Catholic Church, Merrill. She helped take care of her granddaughters Kristy and Katie as they were growing up, and also took care of her beloved neighbor boy Nickolas. Sandy volunteered for many years at the gift shop at Good Samaritan Health Center, Merrill. She loved walking downtown everyday and going to County Market to see her cherished friend Bob White. Sandy enjoyed riding her stationary bike, trips to the casino, and receiving homemade goodies from Tom Wistein. She loved dogs and all animals. Sandy especially enjoyed spending time with her three great grandchildren. Her one and only great grandson, Alexander Theodore, was named after her and her husband and she was very proud of that. Sandy suffered her first stroke in 2011, and the staff at Pine Crest was instrumental in getting her back to health and living on her own again. The staff at Pine Crest referred to Sandy as the "Miracle Patient". Sandy's family would like to thank the staff at Pine Crest Nursing Home and also Aspirus Comfort Care & Hospice Services for their care.

Sandy is survived by two daughters, Lee (Mike) Harbath and Brenda Zettler, both of Merrill; two granddaughters, Kristy (Rick) Neumann and Katie Kufahl (fiancée, Eric Meyer), both of Merrill; two great-granddaughters, Lilyann Rae Kufahl and Malayna Mae Kufahl, both of Merrill; one great-grandson, Alexander Theodore Neumann, Merrill; one sister, Leurelle Reynolds, Wausau; her mother-in -law, Gladys Zettler, Loyal; her brother-in-law and sister-in-law, Jerry and Julie Zettler, Loyal; her sister-in-law, Judy Zettler, Loyal; and several nieces and nephews. Sandy is also survived by Debbie Alvin, whom she considered like a daughter; her beloved neighbor boy Nickolas Schuelke; and special friends Cleone Turner, Glen and Sherry Schuelke, Rose Akey and Bobbie Bonnell, all of Merrill. Sandy was preceded in death by her husband, Theodore 'Ted' Zettler; her parents, Paul and Lucile Steger; her sister, Patricia Lapore; her brothers-in-law, Joseph Lapore and Ted Reynolds; her nephew, Paul Reynolds; and her father-in-law, Melvin Zettler.

The Mass of Christian Burial will be celebrated at 1:00 PM Tuesday, September 20, 2016, at St. Francis Xavier Catholic Church, Merrill. Father Chris Kemp will preside. Burial will take place at a later date in St. Anthony Cemetery, Loyal. Family and friends may remember Sandy beginning at 11:00 AM Tuesday at the church. The Taylor-Stine Funeral Home, Merrill, is assisting the family.

Online condolences may be made at www.taylorstinefuneralhome.com.

Sandy's family suggests that memorials be directed to the Lincoln County Humane Society or St. Francis Xavier Catholic Church.

"This is not goodbye or farewell, but until we meet again".
Read More
Previous Events
Visitation
St. Francis Xavier Catholic Church
Tenth Street
Merrill, WI 54452
Service
St. Francis Xavier Catholic Church
Tenth Street
Merrill, WI 54452