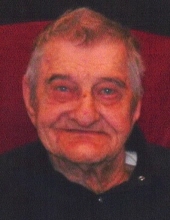 Obituary for William T. Gustin
William Theodore Gustin, age 91, born October 30, 1929 passed away November 30, 2020 under the loving and kind care of the staff at Pine Crest Nursing Home and Ascension Hospice Care. He went to join his beloved wife Mary Gladys Gustin in eternal peace with our Lord God.

William grew up on a farm in the town of Schley and lived there until he moved to Pine Crest Nursing Home in 2010. He wed Mary Gladys Hartson, the love of his life in 1951. They had 68 beautiful years together. He and Mary dairy farmed until the 70's. He then worked construction for the remainder of his working life. In his younger years he loved hunting. Fishing was another sport he enjoyed, as well as playing poker. After retirement, cutting firewood was a hobby he really enjoyed. He loved the outdoors and wildlife. He would video tape bears and deer. He also loved spending time with his family that he loved beyond measure. Christmas at the Gustin home was always a wonderful affair. Decorations beyond belief and wonderful food provided by Mary, presents galore and a house full of family. Bill was always Santa Claus, a job he really loved. Bill had a wonderful personality. He loved to socialize and spend time with people. Bill was loved beyond measure and will be truly missed.

William is survived by his children, Stanley (Mary Jo) Gustin, Anna Gustin, Cindy Gustin, and Patrick (Lynda) Gustin; grandchildren, Jared (Mallory) Gustin, Abby (Steve) Jones, Mickel (Chrissie) Rahlf, Dustin Rahlf (Nicole Kramer- Borchardt), Jason Hanson (Jessica Graap), Molly (John) Glackin, Roxanne (Shawn) Van Der Werd, Crystal (Larry) Roper, and Holly (Steve) Schuett; great grandchildren, Zelia Gustin, William Gustin, Adin Jones, Parker Jones, Krystal Rahlf, Paul Rahlf, Ashley Rahlf, Ryker Kramer- Rahlf, Mazie Graap- Hanson, Nicholas Van Der Werd, Ronin Van Der Werd, Jacob Roper, Dominic Roper, and Brice Roper; brothers-in-law and sisters-in-law, James Hartson, Robert and Joan Hartson, Evelyn and Ben Chrusniak, and Marjory Gustin; and numerous nieces and nephews.

William was preceded in death by: his wife of 68 years, Mary Gustin; parents, Edward and Anna Gustin; grandson, Matthew Hanson; granddaughter, Kyley Hanson; brothers, Edward Gustin, Arthur Gustin, and Rudy Gustin; and brothers-in-law and sisters-in-law, Charlene and Raymond Meyer, Mildred Hochstetler, Dorothy Hartson, Doris Gustin, and Cassy Jo Finch.

In accordance with William's wishes, there will be no services. Taylor-Stine Funeral Home & Cremation Services, Merrill, is assisting the family.
Read More
Events
Event Information
Cremation has taken place.