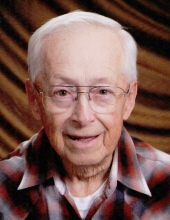 Obituary for William Herman Burgener
William Herman 'Bill' Burgener, age 87, of Merrill, passed away peacefully at his home on Thursday, September 5, 2019 under the care of his loving family and hospice services.

Bill was born in the Town of Schley, Lincoln County on February 28, 1932, to the late Herman Burgener, Jr. and Violet Rose (Vanderford) Burgener. He attended Maple Grove, Heller, Gleason High School and Merrill High School, graduating in 1949. He worked on the family farm and hauled cattle for Equity Livestock until 1954. This started the beginning of his trucking career which he loved. On September 18, 1954, he married the love of his life, Marilyn Yonke. They purchased one of his father's farms in 1954 and Bill did part-time logging for additional income. He then went to work for a broker hauling produce and general commodities. This route consisted mainly of North Dakota to Florida and Alabama. The cargos were potatoes for Frito Lay and US mail north (gift packages). The summers were filled with hauling beans for a local canning company. After a few Dakota winters, he had an opportunity to haul heavy equipment for Drott Mfg. In 1967, he hauled oversized equipment from Wausau to New York and Boston Harbors. In 1976, Bill and Marilyn founded Burgener Contract Carriers, which is now a third-generation company.

Bill was elected to the Wausau Mutual Insurance Board of Directors in 1984. He served on that Board for 27 years. He was elected Chairman of the Town of Merrill in 2003 and served as Chairman for the next ten years. He also served on various Boards and Committees over the years. Bill served as a Trustee at St. John Lutheran Church for four different terms, as well as being a Patron Member of the Fraternal Order of Eagles for 35 years.

Bill and Marilyn enjoyed polka festivals, international travels (trips to Australia, New Zealand, Europe, Mexico, Nova Scotia and three Caribbean cruises), and a trip to Alaska, card clubs and reading. Bill also enjoyed spending time with his children and grandchildren … he always had special stories for his grandchildren.

Bill is survived by his wife, Marilyn, seven children, Kathleen (Mike) Neumann, Cynthia (Steve) Rajek, Debra (Pat) Blum, Rhonda (Brian) Arndorfer, William R. (Karlene) Burgener, Dawn (Jeff) Jameson, and Donna (Lee) Hoeppner. Also surviving are 19 grandchildren, 27 great grandchildren and numerous nephews and nieces. Also surviving are three sisters, Betty Loeffler, Connie (LeRoy) Fischer, Mary (Russ) Jicinsky, and two brothers, John (Sharon) Burgener, and Rodney (Lynn) Burgener; sisters-in-law, Jeanette Lee, Jermaine Yonke and Arlene Yonke, as well as brothers-in-law, Roger (Shirley) Yonke, Donald Petrowski and Richard Kuehn. Bill was preceded in death by his parents, Herman and Violet Burgener, his in-laws, Ervin and Esther Yonke, his sister, Shirley Kuehn, three brothers-in-law, Matt Loeffler, Verlyn Yonke and Elmer Yonke, as well as one sister-in-law, Donna Petrowski, one niece, Sherry Bergman, one nephew, Gary Lee, and one grandson, Dave Hoff.

The funeral will be at 11:00 AM Tuesday, September 10, 2019 at St. John Lutheran Church, Merrill. The Rev. David Szeto will officiate. Burial will follow in Luther Memorial Lutheran Church Cemetery, Town of Schley, Lincoln County. Visitation will be from 4:00 PM until 7:00 PM Monday at the Taylor-Stine Funeral Home, Merrill, and after 9:00 AM Tuesday at the church. The Taylor-Stine Funeral Home & Cremation Services, Merrill is assisting the family.

Online condolences may be made at www.taylorstinefuneralhome.com.

THE FAMILY HAS REQUESTED MEMORIALS BE DIRECTED TO ST. JOHN LUTHERAN CHURCH AND SCHOOL, MERRILL.
Read More
Previous Events
Visitation
Taylor-Stine Funeral Home
903 E. Third St.
Merrill, WI 54452
Visitation
St. John Lutheran Church
1104 E. Third St.
Merrill, WI 54452
Service
St. John Lutheran Church
1104 E. Third St.
Merrill, WI 54452
Memorial Contribution