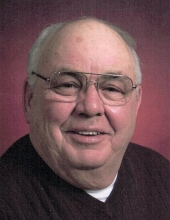 Obituary for Wayne G. Teske
Wayne G. Teske, age 75, of Merrill, passed away on Sunday, December 27, 2020 at Aspirus Wausau Hospital.

Wayne was born January 2, 1945 in Wausau, son of the late Gilbert and Blondina (Buch) Teske. He married Marlene 'Molly' Wilde on October 17, 1964. She survives. When Wayne was 13 years old he started working. For over 45 years Wayne worked as an automobile mechanic, starting out with Park City Motors, then Bloechl Motors, and retiring from Brickner's Park City in Merrill. Wayne enjoyed hunting, fishing, spending time at the hunting cabin in Newwood, making firewood and maple syrup, and camping. Wayne was a fan of both the Packers and NASCAR. Wayne took exceptional care in maintaining any of his vehicles, whether it was his car, truck, or lawn equipment.

Wayne is survived by his wife, Marlene 'Molly' Teske of Merrill; his daughter, Sheila (Steven) Reichel of Minocqua; his granddaughter, Victoria Reichel of Minocqua; four sisters in law, Eileen Teske of Wausau, Dawn Teske of Merrill, Jolene Teske of Athens, and June Teske of Missouri; and a brother in law, Jerry Krueger of Wausau. Besides his parents, Wayne is preceded in death by eight siblings, Kenneth (Merle) Teske, Delmer Teske, Shirley (Elmer) Wendorf, Stanley Teske, Larry Teske, David Teske, Karen Krueger, and Bonnie Kopplin; and was also preceded in death by a nephew, Gary Teske.

A private family memorial service will be held at a later date. Burial of Wayne's cremated remains will take place this summer in St. Paul's Cemetery, Town of Berlin. The Taylor-Stine Funeral Home & Cremation Services, Merrill is assisting the family. Online condolences may be made at www.taylorstinefuneralhome.com.
Read More