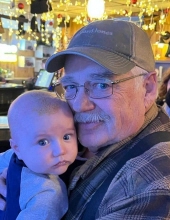 Obituary for Wayne E. Catlin
Wayne E. Catlin, 72, passed away Sunday, January 22, 2023, after celebrating the victory of his grandson winning the F500 Snowmobile class in Eagle River, which he personally wrenched on the winning sled side by side with his son and grandsons.
Born on October 16, 1950, in Merrill, son of the late R. Neil Catlin and Mary (Kippenberg) Catlin of Gleason. He graduated from Merrill High in 1968. Wayne married, received his associate degree in farming, and had two children. After his farming career and a divorce. Wayne went on to the trucking industry in the 80's, eventually being an owner/operator. But that wasn't enough for him either. Wayne, AKA Hoggie, dreamed of, designed, built and opened, Hoggie Doggie's, in Woodruff WI in 1995. You would find him "PR'ing" in the parking lot or frying his famous ho-made fry's he was known for that his family and hunting crew choked down year after year to make that perfect fry. He later sold the business and married Ivy (Golownia) Will on August 16, 2008, at Luther Memorial Church in Gleason. They resided on his grandparent's homestead enjoying the peacefulness of watching the wildlife that surrounds their home. Wayne enjoyed the watching as he knew what was inside those woods waiting for him at deer season. Wayne enjoyed hunting, from being in groups to the latest years, hunting with his sons and grandsons, even giving the bug to his granddaughter. Wayne also passed along fishing, from ice to boat, fresh or salt water, didn't matter how hot or how cold, if he was in nature, he was ready to go, as his walls of trophy bucks and fish can vouch for him, even winning a couple of fishing tournaments.
Wayne and Ivy would also venture out on the Harley, from going out to Yellowstone for their honeymoon or just a day trip, finding the best food and drink around from the biggest to the smallest of towns. In his travels, Wayne always made new friends, or someone would always recognize him, or his recognizable laugh, that we can still hear today.
Wayne is survived by his wife, Ivy Catlin; daughter, Tammy Catlin; son, Todd Catlin (Amy Klinger) all of Gleason; step children, Mary Will and Aaron (Heather) Will, both from Mosinee; grandchildren, Justin (Abby) Onson, Zach (Caitlin) Onson, Markus (Kaylyn) Catlin, Cole Catlin, Johanne (AJ) Catlin, Vicki Catlin and Samantha Catlin; step grandchildren, Autumn Chrouser, Robyn Chrouser, Emerald Will, Samantha Will and Mason Oleson; and 9 great grandchildren. Along with honorary family, Dane Klinger and Reed Klinger both of Athens.
The funeral service for Wayne will be held at 11:00 A.M. on Monday, January 30, 2023, at St John Lutheran Church in Merrill. Rev. Greg Laska will officiate. Visitation will begin at 9:00 A.M. on Monday at the church. Burial of Wayne's cremated remains will take place at a later date. Taylor-Stine Funeral Home & Cremation Service, Merrill, is assisting the family.
Online condolences may be made at www.taylorstinefuneralhome.com
Read More
Previous Events
Visitation
St. John Lutheran Church
1104 E. Third St.
Merrill, WI 54452
Service
St. John Lutheran Church
1104 E. Third St.
Merrill, WI 54452