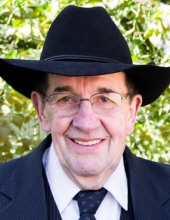 Obituary for Warren W. Gruetzmacher
The measure of a man is not who he knows, but rather by how many people are glad they knew him. Warren stood very tall.

Warren Walter Gruetzmacher, 81, of Merrill, Wisconsin, passed away peacefully on December 16, 2020, at home, surrounded by family.

Warren, the son of Walter and Amanda (Hagedorn) Gruetzmacher, was born August 18, 1939, in Merrill. He attended Brickyard Schoolhouse and Merrill High School. He worked on the family farm established in 1879 by his paternal grandfather, August Gruetzmacher. On May 10, 1972, he married Kathleen Leitermann at St. John's Catholic Church in Antigo and had eight children.

Warren and Kathy purchased the farm in 1974 and continued to operate it using organic practices. They received the Merrill Historical Society Century Farm Award and quality milk awards.

Warren served in the Red Arrow division of the National Guard for ten years. He also served on the Board of Adjustment for the Lincoln County Zoning Department for six years.

Warren enjoyed playing cards and watching old shows and movies with family and friends. He had a natural sense of humor, was always ready to share a joke or story, and loved making others smile. He touched countless lives, leaving a legacy of fond memories.

Warren was musically gifted, singing and playing the guitar, accordion, organ, and harmonica. He loved square dancing and was an avid square dance caller for over 50 years, calling for dozens of regional square dance clubs and events. He had many fans because of his unique style of calling and his charisma as an entertainer. In 2018 he was inducted into the Wisconsin Square Dance Caller Hall of Fame.

Warren was a devout Catholic. He lived a virtuous, prayerful life, choosing to lead by quiet example. He attended Mass at St. Mary's Oratory in Wausau and was a member of their mens' group, the Holy Name Society.

Warren selflessly cared for his family whom he loved deeply, having lived an exemplary life of commitment and sacrifice. He is survived by his spouse Kathleen, his sons Dominic, Wausau; Benedict (Jessica), Merrill; Anthony (Amie), Merrill; Raymond (Samantha), Wausau; Quintin (Rebekah), Medford; Gilbert (Mikaela), Rochester, MN; and daughters Amanda (Everett) Herdt, Merrill, and Monica Gruetzmacher, Merrill; and 16 grandchildren.

Warren was preceded in death by his parents, Walter and Amanda, and his sister Mary Lou Gruetzmacher.

Warren's family is grateful to Aspirus Comfort Care and Hospice Services for having made it possible for them to care for him at home.

A Requiem Mass will be held on Wednesday, December 30, 2020, at 10:00 a.m. at St. Mary's Oratory in Wausau, with Canon Aaron Huberfeld officiating. The burial will take place at Springbrook Cemetery in the town of Pine River.

Visitation will be from 4:00 to 8:00 p.m. on Tuesday, December 29 at the Taylor & Stine Funeral Home in Merrill, with the rosary recited from 4:30 to 4:45 p.m. A silent viewing will take place Wednesday at St. Mary's Oratory from 9:00 to 9:45 a.m.

Online condolences may be made at www.taylorstinefuneralhome.com. In lieu of flowers, donations can be made to Warren's memorial at Food for the Poor: www.championsforthepoor.org/participant/1092.
Read More
Previous Events
Visitation
Taylor-Stine Funeral Home & Cremation Services
903 E. Third Street
Merrill, WI 54452
Visitation
St. Mary's Oratory
325 Grand Ave
Wausau, WI 54403
Service
St. Mary's Oratory
325 Grand Ave
Wausau, WI 54403
Cemetery Details
Location
Springbrook Cemetery
W347 State Road Hwy 64
Town of Pine River, WI 54452