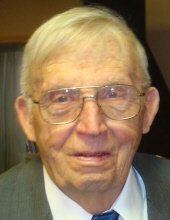 Obituary for Warren E. 'Weck' Weckwerth
Warren E. 'Weck' Weckwerth, 89, of Merrill, passed away Tuesday, February 16, 2016 at Bell Tower Residence, Merrill.

Warren was born February 27, 1926, in Merrill, son of the late Erwin and Ruth (Oberg) Weckwerth. He married Lois Nelson on June 2, 1951. She preceded him in death on September 11, 1986. He then married Lois Utecht Henrich on February 24, 1996. She preceded him in death on August 28, 2015.

Warren began his working career at the Bill Natzke logging camp in northern Michigan. He then came back to the area and worked at the former Fromm Brothers Fox Farm. For five years, Warren worked at the former Associated Co-Op in Merrill. In 1957, Warren took a job as an officer with the Merrill Police Department. He worked with the department until 1967, when he was elected to serve as the Lincoln County Register of Deeds. He held this position for 24 years and retired in January of 1991. After retiring, Warren worked in the woods with his son, Mike, and his grandson, Joe, until he was 79 years old.

From a young age, Weck excelled at and enjoyed the game of baseball. He played organized baseball with the Corning Cubs, a county league team, when he was 11 or 12 years old. While in high school, Weck only played football, due in part to the fact that there was no high school baseball team. After high school, Weck played ball with the city league team, the Merrill Merchants from 1945 until 1947. In 1948, he signed a professional contract with the New York Giants (now known as the San Francisco Giants), and in 1949 Weck attended their Spring Training in Florida. An injury sent him back to Wisconsin where he continued his baseball career.

The Merrill Rangers, a semi-pro team, was organized in 1948. Weck played with the team from 1948 until 1950. He enlisted in the United States Army on February 27, 1950. While serving his country, Weck played ball with the 5th Army Division. They played in the Colorado State Semi-Pro Tournament a few times. He was honorably discharged from the Army on October 22, 1952.

When Weck returned home, he played with the Tomahawk Cubs baseball team from 1953-1954. He then rejoined the Merrill Rangers in 1955 and played through 1962. Weck also played city league fast-pitch softball in the 1960's. He rounded out his baseball career playing slow-pitch softball until he was 65.

In the late 1940's, Weck played for the Merrill Foxes semi-pro football team. He played as a full back and a linebacker. The team won a couple of state championships.

In 2010, Weck became a Charter Inductee of the Merrill Baseball Hall of Fame. For almost ten years, he managed all aspects the American Legion baseball program. Weck truly enjoyed being a baseball coach. He coached the Merrill Rangers, the American Legion, and Merrill Little League baseball teams.

Warren was a member of the Merrill Silver "M" Club and had received his Golden "M" as well. He served on the Silver "M" Board of Directors and the Little League Board of Directors. Warren also served as the President of the High School Football Booster Club for a number of years beginning in the late 1960's. He also served on the Merrill Park and Recreation Commission for many years and was chairman for several of those years. Warren was a member of the American Legion and a long-time member of the Merrill Optimist Club. He also served as the President of the State Register of Deeds Association. Warren was a member of Our Saviour's Lutheran Church, Merrill, and served on the Church Council.

Beyond Weck's athletic abilities, he far more enjoyed watching his children and grandchildren participate in sports. He seldom, if ever, missed a game and would talk and brag about them. His children and grandchildren were his pride and joy. He was very much interested in his great-grandchildren, even predicting their possible achievements and possible positions. Weck seldom talked of his own accomplishments, preferring to talk about his kid's and grandkid's achievements.

Warren is survived by two daughters, Nancy (Phil) Sitter of Waupaca and Sue (Jay) Bauman of Weston; three sons, Phil (Bernie) Weckwerth of Clinton, Iowa, Mike (Katy) Weckwerth of Merrill and Tom Weckwerth of Merrill; nine grandchildren, Erik Weckwerth, Mark Weckwerth, Andy (Becky) Sitter, Becky (Nate) Ness, Marcy (Matt) Smith, Joe (Melissa) Weckwerth, Bryan Weckwerth, Rachel Bauman and Emily Bauman; six great-grandchildren, Hadlee, Owen, Avery, Kennedy, Sam and Liam; one great-grandchild on the way; and one brother, David (Barb) Weckwerth of Merrill. Warren was preceded in death by his wives; his parents; one sister, Joyce Bjorge; and an infant brother, Phillip Weckwerth.

The funeral service will be held at 1:30 P.M. Saturday, February 20, 2016, at Our Saviour's Lutheran Church, Merrill. The Rev. Dr. Dennis R. Creswell will officiate. Burial will take place in Merrill Memorial Park Cemetery with graveside military rites conducted by V.F.W. Post 1638, Merrill. Visitation will begin at 10:00 A.M. Saturday at the church. The Taylor-Stine Funeral Home, Merrill, is assisting the family with arrangements.

In lieu of flowers, memorials may be directed to Athletic Park Improvement Fund or the Merrill Historical Society.
Read More
Previous Events
Visitation
Our Saviour's Lutheran Church
300 Logan st.
Merrill, WI 54452
Service
Our Saviour's Lutheran Church
300 Logan st.
Merrill, WI 54452