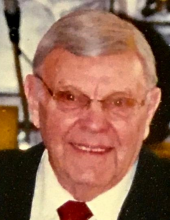 Obituary for Violas Harold John Utech
VIOLAS HAROLD JOHN UTECH
Violas Utech, 97, a life-long resident of the township of Berlin-Marathon County, passed away Monday March 23, 2020 at Mount View Care Center under the care of the Southern Reflections staff and Ascension Hospice.

Violas was born March 17, 1923 at home to the late Paul and Della (Klebenow) Utech. He was a lifelong member of St. Paul's Evangelical Lutheran Church Naugart. He was baptized at home on April 8, 1923 by the Rev. Heinrich Geiger and was confirmed March 21, 1937 at St. Paul's by the Rev. H.A. Handrich. Violas married his high school sweetheart Arlyle Baumann on Jan. 19, 1945 at St. Paul's with the Rev. E.G. Schedler presiding. Arlyle and Violas celebrated their 65th wedding anniversary prior to Arlyle's death in April of 2010.
Violas graduated from the former Wausau High School in 1940 at which time he started working for the former Employers Insurance of Wausau for a short period of time. After getting married, Violas and Arlyle operated the Utech family farm in a partnership with Violas's parents. In February of 1945 he was drafted into the military but was discharged to return to the farm. They continued to farm in partnership until 1957 when they purchased it themselves. They operated the family farm until 1984 when Violas was elected President/Manager of Wausau Mutual Insurance Company. He served in that capacity until retiring in 1990. He served on the Wausau Mutual Insurance Company Board of Directors for 25 years, 1972-1997, being Secretary/Treasurer from 1980-1983. He was on the St Paul's church council for many years, played in the church band, taught Sunday school for 18 years and served as superintendent for part of that time. He was sexton of the St. Paul's Church cemetery for over 35 years until he retired 2014. He served on the Town of Berlin town board from 1991-2009, 4 years as a supervisor and then as Chairman for 14 years. Arlyle and Violas built a new home on some of the farm acreage in 1993 after passing the farm on to their son. Other organizations he served over the years included: he was instrumental in establishing and building the Town of Berlin elementary school which is now the Town of Berlin community center, AAL Branch president for 18 years, 4-H project leader for 20 years, seed dealer for Dairyland Seeds, Church delegate to Northland Lutheran School many years, District Director of Wisconsin Association of Town Mutual Insurance Companies including President and president elect positions, Berlin-Hamburg Lions Club including being president, past-president, treasurer and zone chairman, the Pommerscher Verein German Club, Town of Berlin zoning committee, Town of Berlin Land Use Committee, St. Paul's Mens Club, and the St. Paul's Church council for numerous years. Early in their marriage Violas and Arlyle also played in the Melody Playboys Polka Band playing for events in the area.

Violas is survived by a son, Russell (Debbi Koch) Utech of Merrill; daughter, Jennifer (Kevin) Anklam of Wausau; two grandchildren, Abigail (fiancé Billy Cupp) Utech of Florida and Gustin Utech of Georgia; special niece, Nancy (Paul) Storm Spano of Minnesota; brother-in-law, Armin Baumann of Green Bay; two sisters-in-law Margie (Thomas) Nienow of Wausau and Donna Wohlfahrt of Green Bay; stepbrother, Gerald (Shirley) Baumann of Summit Lake; stepsister, LaVonne (James) Koehler of California; stepbrother-in-law, Gus Rashka of Mosinee; and many other nieces, nephews and cousins.

Violas was preceded in death by his wife Arlyle and his parents, two infant children, Daniel Lee and Amy Beth; grandson, Bobbi Leigh Anklam; sister and brother-in-law Valerian (Utech) Elmer Storm; nephew Valroy Storm and his daughter Lisa Storm; sister in-law Adrienne Baumann and step sister in-law Marilyn Rashka.

The family would like to extend their sincere appreciation to a couple of special angels Violas had in the last few years of his life; Joyce Reger and Cindy Robbins. We also want to thank the staff from TLC of Wausau - Sherri, Barb, and Dave; and to the Ascension Home Health Care and Ascension Hospice programs. Lastly, to his new family at Mount View Care Center, Southern Reflections over the past few months, words cannot express how grateful and thankful we are to you for the loving care and compassion that you provided to Dad.

A private funeral service will be Sunday March 29, 2020 according to the COVID-19 precautions. The Rev. Joel Willitz will officiate. Burial will take place in the church cemetery.

A memorial service and celebration of his life will occur at a later date.

The Taylor-Stine Funeral Home, Merrill, is assisting the family with arrangements. Online condolences may be made at www.taylorstinefuneralhome.com.
Read More