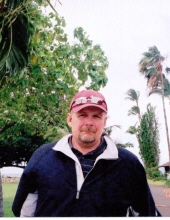 Obituary for Thomas Betchwars
Thomas Betchwars passed away May 4, 2017, at the age of 61. A Family Celebration of his life will be held at a later date.

On September 4, 1955, Frank and Dorothy Betchwars welcomed Thomas into the world. Soon after, he became big brother to Pete, Mary, and Mike.

Tom married the love of his life, Roxy Belgram, on March 25, 1995, and became the loving father of three beautiful children. He loved spending time with his family and they were always at the center of his life.

Tom was an avid golfer at the Merrill Golf Course where he was a daily presence, always 'stirring the pot' for his close friend, Mike. He enjoyed fishing with his family, reading, and kayaking. But his favorite past time was cooking for family and friends.

Tom owned a partnership in Millwork Specialists, Mosinee. He worked passionately to ensure quality service for all his customers. He was blessed to have formed many close friendships along the way.

Tom was a member of St. Anne's Catholic Church, Wausau. It gave him much joy to serve the community through the various acts of selfless kindness. He touched the lives of many as a steward of the Lord.

He will be will loved and remembered by his wife, Roxy; his children, Jaime Belgram, John (Casey) Belgram, and Eric (Ginger) Belgram; his grandchildren, Amber, Darian, Christian, and Bernice Grace; his siblings, Mark (Lori) Ballard, Colleen (Karl) Holm, Craig Ballard, Mary (Charlie) Sunder, Mike (Julie) Betchwars, Cathy Ballard, and Sandy Betchwars; his father in law and mother in law, John and Jean Slominski; sister in law, Norma (Wayne) Berens; and nieces and nephews, Katie, Lindsey, Giana, Scott, Mitchell, Frank, Luke, Tony, Jacob, Jenny, his special Sarah, Bryan, Paul (with, Jodi), and Keith (with, Brenda).

Tom is preceded in death by his parents, Frank and Dorothy; his second parents, Dick and Jan Ballard; brothers Pete Betchwars and John Ballard; and his granddaughter, Lily Rae Ann Belgram.

The Taylor-Stine Funeral Home & Cremation Services, Merrill, is assisting the family.

Online condolences may be made at www.taylorstinefuneralhome.com.
Read More