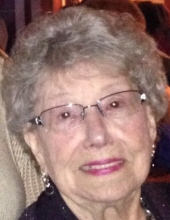 Obituary for Shirley Ann Anderson
Shirley A. Anderson, 91, of Merrill, passed away on Wednesday, June 9, 2021 at Pine Crest Nursing Home, Merrill under the loving care of her family, the nursing home staff, and Aspirus Hospice Services.

Shirley was born March 31, 1930 in Merrill, daughter of the late Arnold and Margaret (Savaske) Zimmerman. She married Donald W. Anderson on July 12, 1952 at St. Paul's Lutheran Church, Town of Pine River. He preceded her in death on June 2, 2013.
Shirley was a homemaker and a stay at home mom for all her children. Shirley enjoyed sewing, cooking and baking for her family, and working on jigsaw and word puzzles. She enjoyed watching the Green Bay Packers, and listening to music on the radio and TV. Shirley looked forward to and enjoyed the 'coffee clutch' on Friday's with her children. She was a member of St. Stephens United Church of Christ.

Shirley is survived by her children Linda Taylor, Jeff (Sheila) Anderson, Bruce (Lorie) Anderson, Debi (Dan) Lemon, Steve Anderson (with, Cathie Gantner), and Jerry (Barb) Anderson, all of Merrill; along with their loving families. Besides her parents and husband, Shirley is preceded in death by a son, Dale 'Beatle' Anderson; a grandson, Lucas Anderson; and Linda's partner Dave Miller.

A private family service will be held. Burial of Shirley's cremated remains will take place at a later date in Snow Hill Cemetery, Town of Scott. The Taylor-Stine Funeral Home & Cremation Services, Merrill is assisting the family. Online condolences may be made at www.taylorstinefuneralhome.com.
Read More