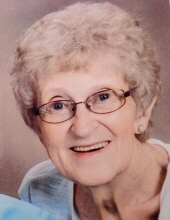 Obituary for Sandra M. Rothmeyer
Sandra Mae Rothmeyer, age 84, passed away Wednesday, December 14, 2022, at Pine Crest Nursing Home, Merrill.


Sandra was born May 30, 1938, in Merrill, daughter of the late Marvin and Mildred (Speas) Ingersoll. She married Stanley Ruben Rothmeyer on August 31, 1957. He survives. Sandra and Stanley had five children: Robin Rothmeyer (Tammie), Tammy Pick (Daniel Pick, Jr.), Shelly Rode (Paul Rode), Amy Rothmeyer, and Benji Rothmeyer (Christina).


Sandra worked for a short time at the telephone company as an operator. She also worked at the glove factory and the bean factory where she caught Stanley's eye! Sandra also helped cook at St. John Lutheran School in Merrill. During the Christmas season, she made pine roping. Sandra loved to sew, knit and crochet and made a lot of her girls' clothes. Sandra was also a great cook and baker.


Sandra survived a severe stroke when she was 46 years old. She learned to talk and read again and do everything with one arm. She was stubborn and determined and wanted no help from anyone else. Sandra was a wonderful mother who was kind, loving, and generous. She was loved by everyone who knew her.


Sandra is survived by her husband of 65 years, Stanley Rothmeyer; children, Tammy Pick, Shelly Rode, and Benji Rothmeyer; daughter-in-law, Tammie Sladek; sisters, Sally (Jerry) Leistikow and Cynthia (Mark) Luebner; grandchildren, Kyle and Jared Rothmeyer, Morgan and Sawyer Rode, and Ava Rothmeyer; four great-grandchildren; and nieces and nephew, Vicky Leistikow (John Kilgust), Randy (Ann) Leistikow, and Shari (Brian) Samuelson. She was preceded in death by her parents, Marvin and Mildred Ingersoll; brother, James Ingersoll; son, Robin Rothmeyer; daughter, Amy Rothmeyer; and granddaughter, Anna Marie Schwartz.


The funeral service will be held at 12:00 P.M., Noon, Tuesday, December 20, 2022, at St. John Lutheran Church, Merrill. Rev. David Szeto will officiate. Visitation will begin at 10:00 A.M. Tuesday at the church. Taylor-Stine Funeral Home & Cremation Services, Merrill, is assisting the family.
Read More
Previous Events
Visitation
St. John Lutheran Church
1104 E. Third St.
Merrill, WI 54452
Service
St. John Lutheran Church
1104 E. Third St.
Merrill, WI 54452