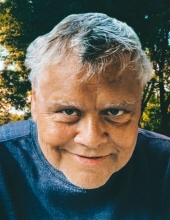 Obituary for Russell V. Yanda
Russell V. Yanda, 64, of Merrill, passed away Monday, February 6, 2023, at Pine Crest Nursing Home,
Merrill.
Russell was born August 1, 1958, in Merrill, son of the late Laverne and Nancy (Wyant) Yanda Hotzfeld.
He graduated from Merrill High School in 1976 and attended Milwaukee Tech for photography and North Central Technical School for Laser Technology. Russell was an entrepreneur; he began several businesses including a tech firm Matchlogic, working for Hughes Aircraft, importing/exporting from China, and creating RVY designs. He enjoyed tinkering with different things which included making jewelry, making neon signs, blowing glass, and working with all things geology. He was always learning something new, and frequently read articles on advancements in science. He was a stunt double, photographer, and crew member for the local movie, The Giant Spider Invasion.
Russell is survived by his son, Broc Yanda of Westminster, Colorado; daughter, Brittany (Sean Nidetch) of
Madison; grandsons, Zander Nidetch and Tyler Nidetch; and sisters, Lorri Yanda of Wausau and Kym
Buchanan of Tucson, Arizona. Russell was preceded in death by his parents, Laverne Yanda and Nancy
Hotzfeld.
Taylor Stine Funeral Home & Cremation Services, Merrill is assisting the family.
Online condolences may be made at www.taylorstinefuneralhome.com
Read More