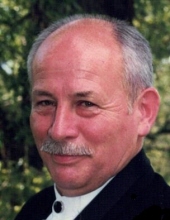 Obituary for Roger G. Meunier
Roger G. Meunier, 78, of Merrill, passed away Sunday, March 6, 2022, at Aspirus Tomahawk Hospital.

Roger was born December 4, 1943, in Escanaba, Michigan, son of the late Kenneth and Lillian (Homan) Meunier. He married Kathleen Cole on August 14, 1965, at St. Francis Xavier Catholic Church, Merrill. She survives. For 43 years, Roger had worked at Merrill Manufacturing. During this time, he had also owned and operated 'Meunier's Carpet & Upholstery Cleaning' for 26 years.

In the early 1980's, Roger belonged to the car club, "Street Machines Unlimited" and enjoyed riding around in his 1940's Plymouth 'Clyde'. Roger enjoyed attending various car shows. He also enjoyed camping, line dancing, and traveling. He was one of the original founders of the Merrill Ice Drags. Roger will be remembered as a very hard working, honest man.

Survivors include his wife of 56 years, Kathleen Meunier of Merrill; sons, Scott (Michelle) Meunier of Weyerhaeuser, Wisconsin, and Dustin (Sara) Meunier of Merrill; grandchildren, Cole (Kelly) Meunier, McKenna Meunier, and Reese Meunier; sisters, Judy (Dick) Bruemmer of Peshtigo, Carol (Don) Heyel of Merrill, and Donna Thielman of Rhinelander; brother, James Meunier of Tomahawk; sister-in-law, Sandra Rhyner (Joe Jilk) of Fountain City, Wisconsin; several nieces and nephews; and his dog, Daisy. Roger was preceded in death by his parents, Kenneth and Lillian Meunier; father-in-law and mother-in-law, Richard and Phyllis Cole; sister-in-law, Barbara Meunier; and brothers-in-law, Dave Berth, Bruce Boettcher, and Gary Thielman.

Per Roger's wishes, a private memorial service will take place at a later date. Taylor-Stine Funeral Home & Cremation Services, Merrill, is assisting the family.

Online condolences may be made at www.taylorstinefuneralhome.com

The family would like to thank Aspirus Tomahawk Hospital for the wonderful care they gave Roger the past few weeks.

In lieu of flowers, memorials may be directed to the Lincoln County Humane Society or Alzheimer's Association.
Read More