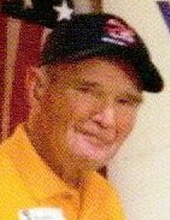 Obituary for Roger 'Budda' English
Roger A. 'Budda' English, 87, of Merrill, passed away Wednesday, December 28, 2016 at Pine Crest Nursing Home, Merrill, surrounded by his loving family.

Budda was born October 29, 1929, in Merrill, son of the late Prentiss and Helen (Nugent) English. He married Lenore Haffemann on October 30, 1954. She survives. Budda retired as a head cashier at the former Lincoln County Bank, Merrill, where he worked for over 42 years. He enjoyed this job so much that he continued to work there after retirement.

Budda was an outstanding athlete at Merrill High School. He was a member of the Merrill "Silver M" Club, receiving both a Silver and Golden "M". Budda was the very first recipient of the "Silver M" Most Valuable Player Award and served as past president of the club. Budda and his brother John served as Honorary Captains of the Bluejay football game on September 1, 2006. After graduating from high school, he attended the University of Wisconsin-Stevens Point for two years before being called to serve military duty. Budda was always proud to be a "Pointer". Budda served in the United States Army during the Korean War and was stationed in Germany. In 2012, Budda flew to Washington, D. C. with the Never Forgotten Honor Flight. Budda was a long-time member of V.F.W. Post 1638, Merrill.

Budda was a member of Trinity Lutheran Church, Merrill, where he served as an usher and was on the Trinity Lutheran School Board of Education as a past president. He was a member of the Merrill Evening Lions Club, of which he served as president for four years, and was a City Council Alderman for over 25 years. He also served on the Merrill Housing Authority Board and volunteered as a foster grandparent at Lincoln Hills.

In his younger years, Budda played for Schram's Barnstormers baseball team. For 35 years, Budda served as a basketball and football official for the WIAA. He was an avid Packers, Badgers, Brewers and Merrill Bluejays fan.

Survivors include his wife of 62 years, Lenore English of Merrill; one daughter, Crystal (Brent) Duwe of Merrill; two sons, Randy (Linda) English and Greg (Lisa) English all of Merrill; six grandchildren, Heather (Chris) Renzelmann, Jennifer Rajek, Dr. Adam (Angie) English, Master Sergeant Joshua (Amy) English, Marissa English (William Koepke) and Mirinda English (Matt Patnode); eleven great-grandchildren, Allie, Aubrey and Joseph Renzelmann, Derek Hoffman, Braylee, Jacob and Evan English, and Emily (Jacob Charley), Mathew, Kayden and Carter English; two sisters-in-law, Marge (Mrs. John) English and Margaret (Mrs. Phil) English both of Merrill; and many nieces and nephews. Budda was preceded in death by his parents; two sisters, infant Dorothy English and Audree (Leonard) Ronis; and two brothers, Phil English and John English.

The funeral service for Budda will be held at 11:00 A.M. Thursday, January 5, 2017 at Trinity Lutheran Church, Merrill. The Rev. Scott Gustafson will officiate. Burial will take place in Merrill Memorial Park Cemetery with graveside military honors conducted by V.F.W. Post 1638, Merrill. Visitation will be from 4:00 P.M. until 7:00 P.M. Wednesday and after 9:30 A.M. Thursday all at the church. Taylor-Stine Funeral Home & Cremation Services, Merrill, is assisting the family with arrangements.

Online condolences may be made at www.taylorstinefuneralhome.com.

In lieu of flowers, the English family suggests that memorials be directed to the Merrill Silver "M" Club, the Never Forgotten Honor Flight, or Trinity Lutheran Church, Merrill.
Read More
Previous Events
Visitation
Trinity Lutheran Church - Merrill
107 N. State St.
Merrill, WI 54452
Visitation
Trinity Lutheran Church - Merrill
107 N. State St.
Merrill, WI 54452
Service
Trinity Lutheran Church - Merrill
107 N. State St.
Merrill, WI 54452