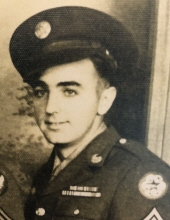 Obituary for Robert M. Koth
Robert "Bob" Koth, 97, died peacefully at home in Merrill, Wisconsin, on December 21, 2021. He was born in a farmhouse outside of Tomahawk, Wisconsin, on August 26, 1924, the sixth boy in a family of eleven children. He was confirmed on June 9, 1940, at St. Paul's Lutheran Church, Tomahawk.

Bob graduated from Tomahawk High School in 1942. On the 4th of July, 1943 he left home upon being drafted into the U.S. Army, joining six of his brothers, five already serving overseas, during World War II. All seven Koth brothers returned safely to Tomahawk at the conclusion of the war. A plaque recognizing their service to our country is on display at Tomahawk's Veterans Memorial Park. Bob was honorably discharged in March, 1946 as a Sergeant 1st Class with the Army Engineers. His tour of duty had taken him to New Guinea and the Philippines. On numerous occasions he encountered and saluted General Douglas MacArthur, a man he greatly admired, while performing his duties in Manila. Bob earned the Bronze Star and various campaign and service ribbons.

Shortly after returning from the war, Bob began working at Weinbrenner Shoe Company in Merrill, WI. He was soon promoted to Production Manager. In the spring of 1948, Evelyn Kanitz, a new Weinbrenner employee, was assigned to his department. Bob and Ev were engaged on Christmas Eve, 1949, and married on June 10, 1950. Together they raised four children, Steve, Ed, Tom, and Norma Jean.

Bob was later employed at Pied Piper Shoe Company in Wausau in the production department, and then Merrill Candy Company, as an accountant. In 1966 he began a career with the U.S. Postal Service, starting as a part-time clerk and subsequently serving as Superintendent of Postal Operations, Acting Postmaster, and ultimately, Finance Director at the Wausau Post Office.

Being a very active member of his church and community, Bob was honored to receive the City of Merrill Award for Community Service in 1973. He was proud to have been the American Red Cross Chapter Chairman for 20 years during which time he assisted many local servicemen and women in crisis, frequently taking middle-of-the-night phone calls from overseas military bases. In 1995 he received the American Red Cross Special Citation for Exceptional Volunteer Service, the first such citation issued by the Lincoln County Chapter. From its inception through 18 years, Bob was the chief instructor in the local Wisconsin Hunter Safety Program, teaching firearms safety to over 800 young hunters in Lincoln County. He served on the Boards of Directors for Park City Credit Union, the Wisconsin Association of Fairs, and the Lincoln County 4-H Leaders Association. He also served on the Lincoln County Board of Supervisors and the St. Stephen's Church Council.

While Bob and Ev enjoyed traveling across the United States, they always returned in time for Bob to maintain his expansive flower and vegetable garden. Bob was a true lover of nature and would hike miles in the forest. He enjoyed hunting, fishing, making maple syrup and time spent at the family cabin around the campfire.

Bob is survived by his wife, Evelyn, of 71 years and their four children, Steve (Carol) of Green Bay, Ed (Micki), Wausau, Tom (Megan O'Day), Merrill, and Norma Jean (Pat) Nelson, Menasha, eight grandchildren, thirteen great-grandchildren, three great-great grandchildren and many nieces and nephews. He is further survived by one brother and sister-in-law, Floyd and Elaine Koth of Tomahawk, sister-in-law and brother-in-law, Marion and Bill Beyer of Gleason, Wisconsin and brother-in-law Robert Wogsland, Tomahawk. Bob was preceded in death by his parents, Walter and Mary "Mayme" (Crass) Koth, eight brothers: Walter Jr., Harold, Ellsworth, Herman, George, Oscar, Herbert, Donald, and three sisters: Delores Wogsland, Dorothy and Mabel (both having died shortly after birth).

The Taylor & Stine Funeral Home is assisting with arrangements. A private family service will be planned at a future date.

The family wishes to thank Kindhearted Home Care and the home hospice providers from Interim Health Care for their outstanding compassion and care. Memorials in recognition of Bob Koth may be sent to: Never Forgotten Honor Flight at 225780 Rib Mountain Drive #234, Wausau, Wisconsin 54401. In its first year in north central Wisconsin, Never Forgotten Honor Flight provided Bob with a trip to the Washington D.C. World War II War Memorial, which Bob found deeply touching.
Read More
Events