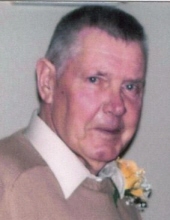 Obituary for Robert J. 'Bob' Frederick
Robert J. 'Bob' Frederick, 81, of Merrill, passed away Friday, April 24, 2020 at Pine Crest Nursing Home, Merrill.

Bob was born November 16, 1938, in Lincoln County, son of the late Louis and Mary (Kawan) Frederick. He married Carol Zimmermann on January 18, 1958. She survives. Bob graduated from Merrill High School with the class of 1956. He drove truck for many years for Baumgart Waste Removal in Merrill. In his younger years, he hauled milk for Richard Nissen. Bob loved woodworking; especially building things with wood and working on wood crafts. He also enjoyed watching baseball and was a fan of the Milwaukee Brewers. Bob enjoyed putting puzzles together, being outdoors, and socializing.

Survivors include his wife of 62 years, Carol Frederick; daughters, Tammy (Mike) Saal and Terri Frederick of Merrill; son, Todd (Renea) Frederick of Merrill; grandchildren, Kate (David) Drewek, Sarah Hess, Cody Hess, and Tyler Frederick (Annette Barker); great-grandson, Landon Hess; many grand-dogs; sisters-in-law, Faye (Jerry) Marnholtz of Merrill, Julie (LaVern) Baumgart of Green Bay, and Phyllis Frederick of Merrill; and many nieces and nephews. Bob was preceded in death by his parents, Louis and Mary Frederick; and his siblings, Marie (Wally) Schultz, Louis 'Bud' (Corrie) Frederick, Jr., Elmer Frederick, Joe (Viola) Frederick, and William (Leila 'Margaret') Frederick.

A private funeral service will be held. Taylor-Stine Funeral Home & Cremation Services, Merrill, is assisting the family with arrangements.
Read More
Events