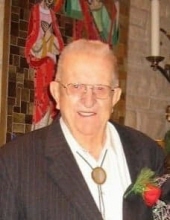 Obituary for Robert August Hoff
ROBERT A. HOFF May 27, 1926 – April 5, 2020

A man, a myth and a legend, Robert A. Hoff of Merrill, Wisconsin passed away on Palm Sunday April 5, 2020 after reaching the age of 93 years. After several months of failing health, he died peacefully at Pine Crest Nursing Home under the care of Aspirus Hospice Services. His beloved wife Isabelle and children were by his side.

Robert was born on May 27, 1926 in the Merrill, Wisconsin, to Ernest and Ada (Lemke) Hoff. As a boy he grew up and lived in the Town of Scott. He attended school through the eighth grade and then helped work the family farm. As a very young man, he learned to work hard on the farm and to take on whatever job was available. To begin his working career, Bob worked for the Neumann Cheese Factory and hauled milk from area farmers. Once in a while, he'd bring a box of fresh squeaky cheese curds home for the family. His next job was at Anderson Brothers Quarry where he hauled granite rock and stones to a variety of vendors, whether it was for road gravel or for headstones. After the quarry, he decided to pursue a trade and became a licensed journeyman plumber and electrician. Initially working for Klammer Plumbing, Bob continued as a plumber and electrician for Weaver's in Merrill until his retirement.

In 1947, he met the love of his life, Isabelle Langhoff at a wedding dance at Hackbarth's Hall. They married on October 1, 1949 at Immanuel Lutheran Church in Merrill, Wisconsin. They lived together almost inseparable for over 70 years. They lived on the farm and together raised five children, residing there for over 40 years. Together they enjoyed dancing, roller skating, country music festivals, Mollie B polka parties and camping in their RV. Prior to retirement, they sold their property and homes in the Town of Scott and moved to the city of Merrill where they continued to live independently.

A strong patriarch of his family and a good friend to all, Bob lived his life exemplifying the fruits of the Spirit - love, joy, peace, patience, kindness, goodness, faithfulness, gentleness, and self-control. He was certainly a non-judgmental man. He was a good father who always took care of his children and did the best he could to guide them. He was a loving grandfather and great-grandfather to many. He was a man who never cared much about himself and who even in his final days said to "take care of each other when I'm gone". He leaves his family with a legacy extraordinaire!

A strong, proud and good man, Bob enjoyed a good game of cards especially Skat (German card game) and Sheepshead. Baseball and football were his true sports and he rarely missed a Brewers, Packers and a Badgers game. He also was interested in the Merrill Bluejays and college sports, especially when he had his children or grandchildren involved. He was also an avid fan of NASCAR and any car races. When he was a bit younger, he rarely missed a Thursday night at State Park Speedway. He was partial to any family pets, especially dogs, and always had special treats for each of them. One of his favorite times was spending time at the cottage on Tug Lake with the family where he would teach the kids how to waterski and many other lake activities. He loved to be with family and was always up for a picnic, reunion or gathering of friends.

Bob is loved and will be missed by many! He is survived by his loving wife, Isabelle of Merrill; his children, Sharon (Randal) Jaeger of Merrill, Pamela (Donald) Wiegel of Oconomowoc, WI, Steven (Sandy) Hoff of Merrill, Renae (Paul) Wiesneski of Merrill, and Michael (Suzy) Hoff of Merrill; grandchildren Jennifer (Brad Borchardt) Jaeger, Theresa (Derek) Micke, Sharisa (Joe) Wetherell, Aaron (David Chavez) Wiegel, Breigh (Shawn) Voigt, Nathan (Jess) Hoff, Chelsey (Darrin) Schleif, Michael (Spring) Wiesneski, Nick (Stefanie) Wiesneski, Molly Hoff, Danno (Amber) Hoff, Derek (Kim) Hoff, Drew Hoff and Desirae Hoff; great-grandchildren Jennisa, Madison, Hudson, Hannah, James, Aida, Lewis, Ivan, Ashley, Isabella, Nolan, Lincoln, Mayvree, McCoy, Anna, Amaris, Emily, Ivy, Ginny, Emma, Avery, Grace, Lily, Maya, Zoe, Harper, Violet, and Kide; step great grandchildren, Zach and Ethan. He is further survived by brother-in-law Louis Langhoff Jr., sisters-in-law Marion Simon, Shirley Borchardt, and Clarice Boehm, and a host of nieces and nephews and other beloved relatives and friends.

He was preceded in death by his father and mother, Ernest and Ada Hoff; his father-in-law and mother-in-law, Louis and Viola Langhoff; two grandsons, Eric Jaeger and David Hoff; brothers-in-law and sisters-in-law, William and Margery Klammer, Milton and Vernette Kleinschmidt, Geraldine Langhoff, Richard Simon, Lawrence and Jean Bubolz, LaVern Borchardt, and David and Florence Langhoff.

Private family services at Snow Hill Cemetery, Town of Scott have been completed.

A memorial service and celebration of life is scheduled for 11:00AM Saturday, July 11, 2020 at St. John Lutheran Church, Merrill with the Rev. David Szeto officiating. The Hoff Family will receive friends beginning at 10:00AM Saturday at the church. Social distancing guidelines will be practiced. Taylor Stine Funeral Home is assisting the family with arrangements. Please continue to offer online condolences at www.taylorstinefuneralhome.com.

In lieu of flowers, memorials may be given to St. John Lutheran Church and School, Merrill, or the charity of your choice.
Read More
Previous Events
Visitation
St. John Lutheran Church
1104 E. Third St.
Merrill, WI 54452
Service
St. John Lutheran Church
1104 E. Third St.
Merrill, WI 54452