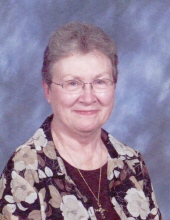 Obituary for Rita G. Oestreich
Rita G. Oestreich, 83, of Merrill passed away on Thursday, August 8, 2019 at Ascension Good Samaritan Health Center, Merrill.

Rita was born July 3, 1936 in Cohocton, New York daughter of the late Loris and Laura (Brown) Graves. She married Edward Howard and he precedes her in death. Rita had been a secretary in both New York and Wisconsin. She had been employed with the Private Industry Council of Marathon County, and at the time of her retirement Rita was working for the Steuben County Sheriff's Department Steuben County, New York. She enjoyed knitting and gardening, singing in the choirs at her church in New York and at St. Paul's Lutheran Church, Town of Pine River, as well as cooking and baking.

Rita is survived by three daughters, Lorie (John) Warren of Illinois, Lisa Howard of Appleton, and Lizabeth (Mark) Heckendorf, of Merrill; one son, Lynn (Lisa) Howard of Stoughton; four grandchildren, Ashley, Leslie, Emily, and Megan; and one sister, Janet (Allan) Cragg of Florida.

Interment of Rita's cremated remains will take place at a later date in New York. The Taylor-Stine Funeral Home & Cremation Services, Merrill is assisting the family.

Online condolences may be made at www.taylorstinefuneralhome.com.
Read More