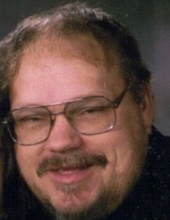 Obituary for Ricky 'Rick' Brown
If there ever comes a day we can't be together, keep me in your heart, I will stay there forever.

It is with great sadness the family of Ricky Brown is enduring his passing from our earthly world to his home in Heaven on October 19, 2021. The emptiness his passing has left is tremendous and there will be a hole in our hearts forever.

Rick was born on December 25, 1956, to Jack and Donna (Klade) Brown. Because he was a Christmas baby, birthdays were very important to him for his family. One of his favorite things to say was what are you going to buy me for your birthday. When the answer was nothing, he'd say well you get presents on my birthday!

Rick met and fell in love with 'the girl next door' and they were married on May 7, 1977, a union lasting over 44 years. His devotion to Cheryl was strong, and there wasn't anything he wouldn't do for her. Their marriage gave them 4 children, Mandy, Teresa, Heidi and Mark and his love for them was like nothing ever seen.

Throughout their life Rick and Cheryl always had farm animals. Rick was forever bringing home a calf, a horse or a sheep, his latest was goats. He had a love for tractors, his passion Oliver tractors. His Oliver named Smokey was his favorite. Rick spent a lot of time farming with his brother Jeff before Jeff's passing. Rick was always wanting Cheryl to make a pie, particularly his favorite Banana Cream. He'd go so far as to leave notes for her regarding getting one or she would be reported to the banana cream pie cops or their local unions. They had trips to Canada fishing with Cheryl's sister Deb and her husband Dick. The hunting adventures with Rick's brothers-in-law were another source of funny stories. His morning coffee shop buddies are going to miss his presence.

Rick has had several jobs during his life, but he had a love of kids, which put him in the school bus business working for 16 years. Since 2011 he held the transportation contract for the Lincoln Industries Adult Work site. His love and devotion to the special needs adults was strong, and his clients looked forward to seeing him daily. But even stronger than that was the bond he had with his nieces and nephews, particularly his niece Sara, and his nephews John and Alex, Erik and Brandon. He looked forward to his Friday breakfast outings with Alex, and they will truly miss him. His silliness and quick wit were something that is going to be forever missing from our daily lived. But stronger than that is the love he had for his 4 grandchildren. Those 4 kids were his existence in life, and he always said it made the day better when seeing or talking with them. He loved them fiercely, and they will miss him forever.

Rick is survived by his wife of 44 years Cheryl, his daughter Teresa (Toby Sontag) Brown, his son Mark (Kimberly) Brown, his four grandchildren Brandon, Laila, Royce and Lincoln. He is also survived by his sister Cindy (Paul) Folta and his sister-in-law Peg Brown. In addition, he is survived by Cheryl's family, who he loved dearly, Deb and Dick Lupton, Jim (Lori Anderson) Borelli, Tammie Pierce, Tony and Debbie Borelli, and Linda and Dave Langren.

Rick was met on a sunny afternoon by his daughters Mandy Ann Brown, and Heidi Jo Brown, along with his parents Jack and Donna Brown, his father-in-law and mother-in-law Jim and Marlene Borelli, his brothers Jeff and Dan, and his brother-in-law Dick Pierce, along with many aunts and uncles. What a glorious reunion he received.

Rick's health battle was strong, and he endured dialysis for 3 years. But in the end, and as strongly as he fought it, it was COVID and the complications that took him from us. We did all we could to protect him, but in the end, it was out there and wasn't enough.

The family would like to thank Rick's Aspirus Dialysis Team, including Dr. Delin Wang, Shawn, Jamie along with the Tomahawk EMT Team, the Tomahawk Hospital Emergency Room and Mercy Hospital in Oshkosh for caring for Rick this last week.

Thank you to Rick for giving to us your gift of dialysis for the last three years. We know you did this out of your strong love and devotion to us. You leave a hole that can't be closed, and we will love you forever.

A public visitation for family and friends will be held from 4:00 PM until 7:00 PM on Monday, October 25, 2021, at the Taylor-Stine Funeral Home, Merrill. A private family funeral service and committal will be held at a later date.

Online condolences may be made at www.taylorstinefuneralhome.com.
Read More
Previous Events
Visitation
Taylor-Stine Funeral Home
903 E. Third St.
Merrill, WI 54452