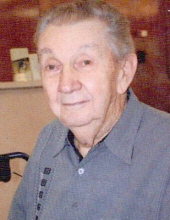 Obituary for Richard G. Hagedorn, Sr.
Richard G. Hagedorn, Sr., 91, of Merrill, passed away Sunday, October 28, 2018 at Bell Tower Residence, Merrill.

Richard George Hagedorn, Sr., the son of Arthur and Ella (Gruetzmacher) Hagedorn was born August 28, 1927 in Merrill. He was baptized at St. James Lutheran Church in the Town of Pine River, and affirmed his faith in Jesus at St. Luke's Lutheran Church in the Town of Pine River on June 23, 1940. He was raised on the family farm in the Town of Pine River, attended Goettchel Elementary School and graduated from Merrill High School in 1945. Following graduation he worked on his dad's dairy farm.

On May 8, 1954, he married Dolores Wegner at Trinity Lutheran Church (WELS) in the Town of Berlin. They had four children – Richard, Jr., Mark, Nancy and Daniel. On November 5, 1958 Richard and Dolores took ownership of the Hagedorn homestead. They increased the acreage, size of the dairy herd and purchased more machinery. More silos and buildings were constructed to accommodate these increases. Richard was always interested in all aspects of farming, so he and Dolores took a 17 day Farm Journal tour to Europe in August 1981. They visited a variety of selected farms in Holland, Switzerland, Germany, France and England. At each farm there were demonstrations and the opportunity to participate in the farm activities.

Through the years Richard and Dolores traveled by car or bus tours throughout the United States and Eastern Canada. Richard retired from farming in 1999. On July 19, 2013 Richard Hagedorn, owner of the 102 year old Hagedorn homestead located at W3651 Hillview Road in the Town of Pine River was awarded the Merrill Historical Society Century Farm Award.

A favorite diversion for Richard and his family was music. At age 6 he played a push button accordion, at age 12 he played the piano accordion and was featured at the Merrill City Band Concert being recognized as Lincoln County's youngest accordion player. At age 14 he began playing with dance bands in the area. In 1967 he formed the Dick Richin's Orchestra with his three sons and daughter. They performed at public dances in area ballrooms and private dances for birthdays, weddings, anniversaries and reunions. They often played at Sunday polka church services in Merrill, Wausau, Athens and Rhinelander. From 1947-1974 Richard gave private accordion lessons at the Merrill House of Music and his home to 250+ students. Richard was a member of Our Saviour's Lutheran Church, Merrill, and was active on the Church Council, building committee and Usher's Club.

Richard is survived by his daughter, Nancy (Philip Woller) Hagedorn of Plover; son, Daniel Hagedorn of Wausau; grandson, Richard (Hannah) Hagedorn III of Monroe, WI; sister, Lorraine Muschinske of Merrill; and daughter-in-law, Joan Hagedorn of Monona, WI. He was preceded in death by his wife, Dolores Hagedorn; parents, Arthur and Ella Hagedorn; sons, Richard Hagedorn Jr. and Mark Hagedorn; and brother-in-law, Gerald Muschinske.

The funeral service for Richard will begin at 11:00 A.M. Saturday, November 3, 2018, at Our Saviour's Lutheran Church, Merrill. Rev. Patricia Schutz will officiate. Burial will take place in Merrill Memorial Park Cemetery. Visitation will begin at 9:30 A.M. Saturday at the church. The Taylor-Stine Funeral Home & Cremation Services, Merrill, is assisting the family.
Read More
Previous Events
Visitation
Our Saviour's Lutheran Church
300 Logan st.
Merrill, WI 54452
Service
Our Saviour's Lutheran Church
300 Logan st.
Merrill, WI 54452