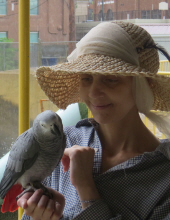 Obituary for Rhiannon A. Kohlmoos
Rhiannon Kohlmoos, age 42, died on Saturday, December 31, 2022. Rhiannon was born on February 26, 1980 in Laramie, Wyoming, the daughter of Peter and Judith (Boldt) Kohlmoos. Rhiannon was home schooled and received her Bachelor of Science Degree in Biology from the University of Wisconsin, Stevens Point in 2017.
Rhiannon spent many hours collecting, classifying, pressing and illustrating grasses and flowers that are a part of the beautiful prairie countryside of Central and Northern Wisconsin. Much of her work is housed with the UWSP herbarium. Rhiannon also loved to write and tell stories.
Rhiannon is survived by her parents and four sisters; Arhia, Annwn, Mirra and Cirrus, and 7 nieces and nephews.
Taylor-Stine Funeral Home & Cremation Services, Merrill, is assisting the family.
Online condolences may be made at www.taylorstinefuneralhome.com
Read More