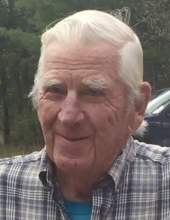 Obituary for Raymond J. Heller
Raymond J. 'Ray' Heller, age 90, of rural Merrill, passed away Saturday, September 4, 2021, at North Shore Riverview in Tomahawk.

Ray was born March 15, 1931, in the Town of Schley, son of the late Arthur and Frances (Geiss) Heller. He married Harriet J. Raasch on January 26, 1952, and she preceded him in death September 13, 2008. Ray was a self-employed logger. He enjoyed deer hunting and watching the deer around the family cabin. Ray also enjoyed gardening and trout fishing. He was a baseball fan and in his younger years enjoyed playing the game. Ray honorably served in the United States Marine Corp and was stationed in Korea during the Korean War. He was able to go on the 'Honor Flight' several years ago.

Ray is survived by one daughter, Yvonne Severt of Merrill; four sons, Michael (Laura) Heller, Jack (Kelly) Heller, John Heller, and Dean (Sandi) Heller, all of Merrill; grandchildren, Derek, Brandon, Kyle, Nicole, Ashley, Joshua, Jessica, Dylan, Makayla, and Jared; great-grandchildren, Sky, Izaiah, Hunter, Rowan, Sutton, Hailee, and Zane; and sister, Betty Okray of Merrill. Besides his wife and parents, Ray was preceded in death by his wife, Harriet Heller; his parents, Arthur and Frances Heller; sons, Gary and Todd; and his siblings, Arthur 'Bud' Heller, Jr., Dorothy Mae Ament, and Phyllis Mattson.

A memorial service for Ray will be held at 11:00 A.M. Saturday, September 11, 2021, at the Taylor-Stine Funeral Home, Merrill. Father Mariadas Vallabhaneni will preside. The honorary pallbearers are Ray's grandsons: Derek King, Brandon King, Kyle King, Joshua Heller, Dylan Heller, and Jared Heller. Burial of Ray's cremated remains will take place in Gleason Cemetery, Town of Russell. Family and friends may gather at the funeral home on Saturday, September 11, 2021, beginning at 9:00 A.M. Taylor-Stine Funeral Home & Cremation Services, Merrill is assisting the family.
Read More
Previous Events
Visitation
Taylor-Stine Funeral Home
903 E. Third St.
Merrill, WI 54452
Service
Taylor-Stine Funeral Home
903 E. Third St.
Merrill, WI 54452