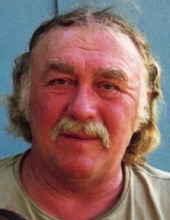 Obituary for Pete Boquist
Pete Boquist, 75, of rural Merrill, passed away at his home on Tuesday, December 15, 2020 under the care of his family and hospice services. Pete fought a courageous battle with cancer.

Pete was born July 3, 1945 in Merrill, son of the late Carl Boquist and the late Dorothy (Mosser) Boquist. Pete was a union laborer for over 35 years, and worked in heavy, highway, and pipeline construction. He was proud to have helped construct the Alaska Pipeline. Pete was an avid deer hunter. He enjoyed trout fishing, making maple syrup, and working in the woods. He also enjoyed following the Packer and Badger football programs, NASCAR, and photography. Pete was a voracious reader, getting any and all books he could to self-educate himself. He had a lot of hobbies and excelled at all of them. He loved working on landscaping and made many gorgeous gardens. Pete honorably served in the U.S. Navy from 1963 until 1966. He was stationed in South Carolina where he served as a 'corpsman'.

Pete is survived by his longtime companion, Debby Rehfeld of the Town of Schley; two sons, Jeff (Kirstin) Boquist of Merrill and Andy (Laura) Boquist of Gleason; five grandchildren, Brock, Briana, Taylor, Erin, and Liliana; six great-grandchildren, Ava, Kian, Aslynn, Croix, Aurora, and Willow; five sisters, Elaine Wicke of Merrill, Carol Boquist of Merrill, Betty (Dan) Walrath of Deerbrook, Sandy (Bill) Koutnik of Deerbrook, and Karla Boquist (Freddie Latzig) of Merrill; two brothers, Bob (Rose Ann) Boquist of Gleason and Don (Jenalyn) Boquist of Irma; a half-brother, John Slavinsky (Deanna Bonke) of Merrill; and many nieces and nephews. Pete was preceded in death by his mother and father; and a brother, Jerry Boquist.

In keeping with Pete's wishes there will be no services. The Taylor-Stine Funeral Home & Cremation Services, Merrill, is assisting the family.
Online condolences may be made at www.taylorstinefuneralhome.com.
Read More