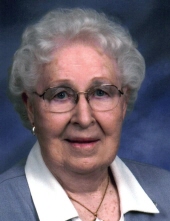 Obituary for Mrs. Mae J. Boushley
Mae J. Boushley, 97, of Merrill, passed away Wednesday, November 23, 2022, at Pine Crest Nursing Home, Merrill.


Mae was born February 3, 1925, in Merrill, daughter of the late August and Angela (Zastrow) Heldt. She graduated from Merrill High School in 1941. Mae married Gregory L. Boushley on April 14, 1945, in Merrill. He preceded her in death on March 14, 1981. Greg and Mae owned and operated dairy farms in the Town of Scott and the Town of Pine River. Mae was a homemaker and a farm wife. While Greg was away at his job with the Lincoln County Highway Department, Mae ran the farm with the help of the children. She would milk cows, plow fields, bail hay, and finish all the other tasks that needed to be done at the farm.

Mae had a strong faith and passed her love for the Lord onto her children. She was an active member of St. John Lutheran Church, where she taught Sunday School, and took part in the Mother's Club, Stewardship Board, Ladies Aid, and several other boards. Mae was an exceptional grandma to her grandchildren.


Mae also worked at the County Market deli, the Carmel Corn shop in the Wausau Center Mall, and helped with the census. Mae spent a lot of time volunteering; she was a 4H club leader for over fifteen years, a master gardener, and helped coordinate many of her 1941 class reunions. Mae enjoyed square dancing, and she loved to travel, always brought back souvenirs for her family.


Mae is survived by her daughters, Lynn Burgener, Lee (Rex) Buehler, Laurel (Neil) Steinagel, Noelle (Chuck) Stine, and Noreen (Doug) Brandt all of Merrill; 14 grandchildren, Brad Byer of Merrill, Burl (Becky) Byer of Merrill, Bret (Stephanie) Byer of Merrill, Brandon Smith (Blair Hubbard) of Merrill, Meredith (John) Heldt of Merrill, Micah Michalski of Puyallup, Washington, Miranda (Kevin) Voss of Houston, Texas, Gabriel (Jessica) Steinagel of Merrill, Justin Stine of Minnetonka, Minnesota, Garrett Stine of Merrill, Jordan (Jenna) Stine of Delafield, Quinn (Payge) Brandt of Japan, Morgan Brandt (Justin Dennison) of Merrill, and Hailey (Matt) Clark of Merrill; 26 great-grandchildren; 1 great-great-grandchild; and many close special friends. Mae was preceded in death by her husband, Gregory Boushley; parents, August and Angela Heldt; son-in-law, Tom Byer; and siblings, Corleen Seefeld Oelke, Ena Reger, Orlen Heldt, August 'Augie' Heldt, and Karl Heldt.

The funeral service for Mae will be held at 11:00 A.M. on Friday, December 2, 2022, at St. John Lutheran Church, Merrill. Rev. David Szeto will officiate. Burial will take place at Merrill Memorial Park Cemetery. Visitation will be held on Thursday, December 1, 2022, from 4:00 P.M. until 7:00 P.M. and again Friday beginning at 10:00 A.M. all at the church. Taylor-Stine Funeral Home & Cremation Services, Merrill, is assisting the family.
The family suggests memorials in Mae's name be directed to St. John Lutheran Church and/or School in Merrill.

Online condolences may be made at www.taylorstinefuneralhome.com
Read More
Previous Events
Visitation
St. John Lutheran Church
1104 E. Third St.
Merrill, WI 54452
Visitation
St. John Lutheran Church
1104 E. Third St.
Merrill, WI 54452
Service
St. John Lutheran Church
1104 E. Third St.
Merrill, WI 54452