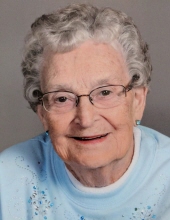 Obituary for Mavis D. Voelz
Mavis D. Voelz, 91, passed peacefully into the arms of her Lord on July 3, 2020, in the Comfort Care Unit of Ascension Good Samaritan Hospital in Merrill. Mavis was born on November 9, 1928, in the Town of Hamburg to Harvey and Eldora (Harder) Woller.

Mavis graduated from Athens High School and the Lincoln County Normal School. She taught in various one-room schools in the area. She married Wilbert Voelz on November 6, 1948. She left teaching to raise her family and work as a partner in their farming operation in the Town of Scott. Wilbert has been waiting for Mavis to come waltz with him in heaven since September 26, 2001.

Mavis enjoyed being with family and friends. She liked going out to eat, especially for Friday fish fries and "cousin" breakfasts. She played poker with special friends Ralph and Phyllis Buch and Don and Elaine Hoff for over 50 years. She also enjoyed playing sheephead and 31, exercising with the water aerobics group, reading, setting jigsaw puzzles, and doing cross-stitch. She liked to travel around the United States and had a goal with Wilbert to visit all 50 states. He got to 48 and she made all 50. She was a member of Faith Lutheran Church, Merrill.

Mavis is survived by five children, six grandchildren, and eleven great-grandchildren: daughter Roxie (Mike) Hoffman, Rothschild, and Roxie's sons Jon Shimel (wife Kate and children Hannah, Jacob, Alexander, Charlie, and Sawyer) and Andy Shimel (wife Amy Yessa and Andy's children Zachary, Mason, and Kolbie) all of Merrill; daughter Cindy (Ed) Kemery, Merrill, and their children Amy Kemery, Baltimore, MD, and Brian Kemery (wife Jaime and children Hunter, Isabelle, and Adalynn) of Renton, WA; daughter Rhonda Voelz, Edgerton, and her children Dustin Lemke, Madison, and Sally Lemke, Edgerton; and sons Keith Voelz and David (Linda) Voelz, both of Merrill. Mavis is also survived by one brother, Vernon Woller; two sisters, Joann Utecht and Carol (Donald) Kopplin; one sister-in-law, Betty Voelz, all of Merrill; and numerous nieces and nephews.

A private service will take place at Faith Lutheran Church, officiated by Rev. Donald Love. Burial will be at Faith Lutheran Cemetery - North. Taylor - Stine Funeral Home and Cremation Services, Merrill, is assisting the family. Mavis's family and friends were blessed to celebrate her life with Mavis on her 90th birthday. We look back on that celebration with fond memories.

Thank you to the staff in the Comfort Care Unit for their care of Mavis during the past week.

In lieu of flowers or memorials, have some old-fashioned fun with your family and friends in remembrance of Mavis.
Read More
Events