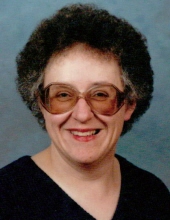 Obituary for Maureen R. 'Mo' Johnson
Maureen 'Mo' Rebecca Johnson, age 65, formerly of Irma, WI, passed away January 24, 2016 at Pine Crest Nursing Home in Merrill under the care of honorary family, the nursing home staff and Ministry Home Care Hospice.

Maureen was born in Neenah, WI and spent her childhood in Winneconne, WI. She was the only daughter of Ivan T.K. Andersen and Dorothy Rosevier (Dalton) Andersen.

As a child, she was doted on and music was her life. She was a bluebird (part of a church group), was in girls madrigal and part of the woodwind ensemble, concert, pop, and marching band, library club, girls glee club and chorus. She also spent a lot of time with her family and talked about them often. She joined the Sweet Adelines with her mother and sang solos for weddings and funerals as well as to the public.

Maureen loved horses. As a girl, she worked for a stable called Camp Hiawatha in exchange for riding lessons. She bought and trained her first horse, Shadow, and he was her whole life. She took him to Colorado where she was a "trail boss" for a horse camp. Shadow was also in two Broadway plays in Wausau. He stole the show at all his performances. Maureen and Shadow raced in endurance and competitive races all over the tri-state area. She was a member of UMECRA for many years.

Maureen moved to Irma on August 1, 1970 to work at Lincoln Hills Boys School. She bought a farm with her best friend forever, Bonnie, and eventually met the love of her life, Jim. Maureen joined the National Ski Patrol after moving to Irma and patrolled primarily at Camp 10 but went all over the state wherever she was needed. She continued her love of music by joining the Sweet Adelines in this area where they performed all over the state and even went to London, England. She was part of a quartet called "Hot Fudge" named for all the girls' love of chocolate.

Maureen married James Johnson on December 2, 1983 and enjoyed almost 22 years with him until his death on November 21, 2005. In 1982, Maureen and her friends, Bonnie Biermier, Lynn Allen, and Berle Vandre started a horse club called the Prairie River Ride Association. Today it is called the Underdown Horse Club. Over the years, Maureen nurtured it and it grew into a very large camp and club. She was secretary/treasurer for many years and was instrumental in developing the area. Maureen finished her working career at Cesa 9 and helped develop the online schooling for Lincoln County. Maureen was also a proud member of the Northwoods Search and Rescue and served all over the state of Wisconsin when needed. She loved all of her family and friends and loved to tell stories of her past experiences.

Maureen is survived by her "honorary daughter" Jennifer (Tim) Kautz, her Godson, Jordan Kautz and John Kautz, all of Merrill; her cousins, JoAnn (Gerald) Wenzel, Allen (Carla) Andersen, Elizabeth (David) Maihlan, Susan Haldeman, and Shelly; and many grand nieces and grand nephews. She is also survived by her brother-in-law and sister-in-law, Larry and Mardell Johnson and their children, Renee (Michael) Hertzfeldt, Michele (Todd) Gordan, and Jennifer Johnson (Eric Bye); and several more great nieces and great nephews. Last but not least, her best friends forever, Bonnie Biermier and Marilyn Voelz; and many other close friends.

Maureen was preceded in death by her parents, Ivan and Dorothy Andersen; her husband, Jim; her cousin, John; and many horses and dogs.

A memorial service for Maureen will be held at 11:00 A.M., Saturday, February 6, 2016 at St. Stephens United Church of Christ, Merrill. The Rev. Missy Holdorf will officiate. The family will receive friends beginning at 9:00 A.M. Saturday at St. Stephens Church. Burial will take place in Bethany Cemetery next to her husband, Jim, in Irma, WI in the spring.

Special thanks to Ministry Home Care Hospice, Pine Crest Nursing Home, and Taylor-Stine Funeral Home for making her last days on this earth comfortable and peaceful.
Read More
Previous Events
Visitation
St. Stephens United Church of Christ
903 E. Second St.
Merrill, WI 54452
Service
St. Stephens United Church of Christ
903 E. Second St.
Merrill, WI 54452