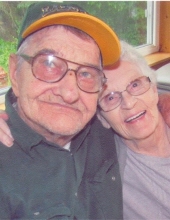 Obituary for Mary G. Gustin
Mary G. Gustin, age 84, of Merrill, passed away Friday, February 15, 2019 at Pine Crest Nursing Home, Merrill.

Mary was born June 20, 1934, daughter of the late Robert and Pearl (Burns) Hartson. She married William T. Gustin in 1951. He survives. Mary's family was the most important thing to her. She truly enjoyed the time she spent with her grandchildren and great-grandchildren.

Survivors include her husband of 67 years, William T. Gustin; children, Stanley (Mary Jo) Gustin, Anna Gustin, Cindy Gustin and Patrick (Lynda) Gustin; grandchildren, Jared (Mallory) Gustin, Abby (Steve) Jones, Mickel (Chrissie) Rahlf, Dustin Rahlf (Nicole Kramer-Borchardt), Jason Hanson (Jessica Graap), Molly (John) Glackin, Roxanne (Shawn) Van Der Weerd, Crystal (Larry) Roper and Holly (Steve) Schuett; great-grandchildren, Zelia Gustin, William Gustin, Adin Jones, Parker Jones, Krystal Rahlf, Paul Rahlf, Ashley Rahlf, Mazie Graap-Hanson, Nicholas Van Der Weerd, Ronin Van Der Weerd, Jacob Roper, Dominic Roper, Brice Roper and Ryker Kramer; sister, Doris Gustin and Evelyn (Ben) Chrusniak; brothers, James Hartson and Robert (Joan) Hartson; sister-in-law, Marjory Gustin; and numerous nieces and nephews. Mary was preceded in death by her parents, Robert and Pearl Hartson; grandson, Matthew Hanson; granddaughter, Kyley Hanson; sisters, Charlene (Raymond) Meyer, Mildred Hochstetler and Cassy Jo Finch; sister-in-law, Dorothy Hartson; and brothers-in-law, Rudy Gustin, Edward Gustin and Arthur Gustin.

In accordance with Mary's wishes, there will be no services. The Taylor-Stine Funeral Home & Cremation Services, Merrill, is assisting the family.
Read More