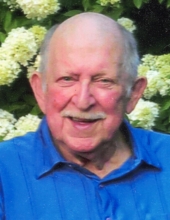 Obituary for Marlin R. 'Bob' Hart Sr.
Marlin Robert 'Bob' Hart Sr., 81, of Merrill, passed away Tuesday, April 11, 2023, at Aspirus Wausau Hospital.
Bob was born May 25, 1941, in Meadville, Pennsylvania, son of the late Marlin L. and Larieta M. (Deshner) Hart. He married Darlene L. Stockton on August 15,1959, in Linesville, Pennsylvania. She survives. In 1959, Bob graduated from Meadville Senior High School and went to work for his uncle at Barlow Well Drilling Company where he learned the skills of well drilling and plumbing. When his uncle suddenly and unexpectedly passed away, he took a job at a truck stop. Then Bob joined Wickes Lumber Company as a yard loader then as an outside salesman, traveling throughout northwestern Pennsylvania. In 1964, Bob went to work for Etling Window & Door Company in Barberton, Ohio. In 1965, that company bought Goodjohn Sash & Door Company in Leavenworth, Kansas and Bob was transferred to Leavenworth with responsibility for development of territory in the states of Kansas, Colorado, Nebraska, and Iowa. With success there he advanced to a similar position for the states of Ohio, Kentucky, and Tennessee, and relocated back to Barberton, Ohio in 1967.
When Etling Window & Door Company was sold to Georgia Pacific Corporation in 1968, his successes had been recognized by industry contacts that invited him to become National Sales Accounts Manager of Semling & Menke Company in Merrill. He served in that capacity for about 20 years and then became the manager of the print shop for Semling & Menke Company for the next 17 years which called for less travel and afforded more time for family and Masonic interests. Bob retired in 2008.
In retirement, despite some health issues, Bob continued to enjoy the outdoors and kept busy brewing a large variety of wines. He took special pride in the clarity of the finished product that is bottled only after a year in process. Bob enjoyed gifting most of his wine to others. He also enjoyed working outside, especially on his lawn, hunting, fishing, camping, and building. He loved spending time with his grandchildren and great-grandchildren.
Brother Bob was initiated into the Leavenworth Masons Lodge No. 2 in Leavenworth, Kansas on May 1, 1967. Bob was elected Junior Warden in 1974 and Senior Warden in 1975, then he was advanced to Worshipful Master after only two stated communications when Worshipful Master Plants was suddenly transferred by the United States Geological Survey to Salt Lake City. Bob was elected Worshipful Master in 1976 and again in 1977, so in total he served three years as Worshipful Master. Bob served on the board of directors for the Masonic Building Association for several years. He also served as Associate Bethel Guardian (Dad Hart) for Jobs Daughters Bethel #17 for twelve years. In July of 2017, Bro. Bob received his 50-year pin from the Grand Lodge of Kansas.
Bob is survived by his wife, Darlene Hart of Merrill; son, M. Scott (Sheryl) Hart of Fremont; grandchildren, Eric (Taylor) Hart, Tyler Hart (Corina VanDuser), Michael (Jenny) Hart, Bryan Hart, and David (Olivia) Hart; great-grandchildren, Emily, Sawyer, and Chase; and cousins, Vivian Deshner and George Deshner. Bob was preceded in death by his son, M. Robert 'Bob' Hart Jr.; parents, Marlin and Larieta Hart; brothers, George Hart and Richard Hart; and aunt, Betty Deshner.
The Masonic funeral service for Bob will be held at 11:00 A.M. on Monday, April 24, 2023, at the Taylor-Stine Funeral Home. Visitation will begin at 9:00 A.M. on Monday at the funeral home.
Online condolences may be made at www.taylorstinefuneralhome.com
Read More
Previous Events
Visitation
Taylor-Stine Funeral Home
903 E. Third St.
Merrill, WI 54452
Service
Taylor-Stine Funeral Home
903 E. Third St.
Merrill, WI 54452