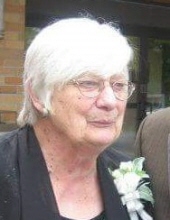 Obituary for Marlene M. Borelli
Your Mom is always with you. She's the whisper of the leaves as you walk down the street, she's the smell of certain foods you remember, flowers you pick, the fragrance of life itself. She's the cool hand on your brow when you're not feeling well, she's your breath in the air on a cold winter's day. She is the sound of the rain that lulls you to sleep, the colors of the rainbow, she is Christmas morning. Your mother lives inside your laughter. She's the place you came from, your first home, and the map you follow with every step you take. She's your first love, your first friend, your first enemy, but nothing on Earth can separate you. Not time, not space, not even death…

Our Mom, Marlene M. Borelli, won the battle with Dementia and Parkinson's on Tuesday, June 5th when she took her final breaths and went to her Heavenly home. Mom was born June 29, 1936, the youngest of eight children, to Elmer and Clara (Schacht) Patefield. She grew up on Prospect Street in Merrill and graduated from Merrill High School. In March, 1955 she was introduced to our Dad Jim Borelli by his cousin, who was one of her close friends. They married on September 17, 1955, a union to last 55 years until his passing. Mom was a strong willed woman, as Dad once put it, "you don't have to worry about your mom, she's a tough ole bird". There wasn't much she couldn't do or wouldn't do, she was an avid gardener and canned many of her items. Every year 200 meat chickens were raised for the winter and she cleaned them all. Later she would team up with her Grandson Mark and would cut his chickens which he gladly then shared with her. Mom did a lot of sewing and each year our Christmas tree had her handmade items that she would start early in the fall. She tried teaching her granddaughter Teresa to sew and gave up when Teresa sewed things to her sleeve. In her later years she made things for Teresa's classroom of children. Mom was a stay at home mom, and many of her grandchildren had the advantage of Gram helping with raising and babysitting them. She would take them to the library for summer reading programs, tried to teach them to sew, cook and garden.

Mom taught Sunday school at St. Stephens Church for many, many years sewing costumes. She was presented a Time and Talent award for her work and dedication to children, which she cherished. Anyone that knew Mom knew she didn't care for summer heat, one year she wrote, "Beat the Heat, think SNOW" on her windows in the spray snow used at Christmas. As our dad entered kidney failure and needed dialysis, she took on any and every household chore, including changing cooking habits, earning her nicknames from her grandkids.

Mom is survived by her six children, Cheryl (Rick) Brown, Deb (Dick) Lupton, Jim (Marsha) Borelli, Tam (the late Richard) Pierce, Tony (Debbie) Borelli and Linda (Dave) Langren. In addition Mom is survived by her grandchildren, Teresa Brown (Toby Sontag), Mark (Kimberly) Brown, Stacey (Dave) Hoff, Sara Lupton (Zach Ciszewski), James (Steph) Borelli, Josh (Jenna) Borelli, Jenny (Jamie) Bucki, Michael (Jennifer) Pierce, Matthew (Sam) Pierce, Brook Borelli (Matt Wendorf), John Langren and Alex Langren. She is survived by her great-grandchildren, Brandon, Laila, Royce, Hailey, Jasmine, Carson, Holden, Zowie, Jadelynn and Jacob, with Baby Sontag coming in August; her sister-in-law, Edith Borelli; and brother-in-law, Clifford Lupton. Mom was preceded in death by her beloved husband, our Dad Jim, and her grandchildren Mandy and Heidi, along with son-in-law, Richard. She was the last surviving child in her family and was preceded in death by her sisters and brother, Jeannette, Velma, Lenice, Muffy, Sonny, Lois and Alvera. Mom was also preceded in death by Dad's family, her sisters-in-law and brothers-in-law, whom she loved dearly, Lena, Henry, Irma, Louis, Mary, Irene, Eleanor and Leo.

We'd like to take this time to thank Pine Crest Nursing Home 400 Wing, and in the last years the Special Care Unit (Tanya, Sam, Jan, Rita, Ashley, Emily, Jake and Melissa) whom were with us during Mom's last days, along with the rest of the staff. Your dedication and care for Mom gave us comfort knowing she was being well cared for.

Mom - your journey and work here on Earth is done. Thank you for all your love and dedication to not only us, but our families, especially our children. We will love you always.

Marlene's funeral will be held at 11:00 A.M. on Tuesday, June 12, 2018, at St. Stephens United Church of Christ, Merrill. The Rev. Kyle Carnes will officiate. Burial will take place at Merrill Memorial Park Cemetery, Merrill. Visitation will be from 4:00 PM until 7:00 P.M. on Monday, June 11th and again after 9:30 A.M. Tuesday, June 12th all at the church.
Read More
Previous Events
Visitation
St. Stephens United Church of Christ
903 E. Second St.
Merrill, WI 54452
Visitation
St. Stephens United Church of Christ
903 E. Second St.
Merrill, WI 54452
Service
St. Stephens United Church of Christ
903 E. Second St.
Merrill, WI 54452