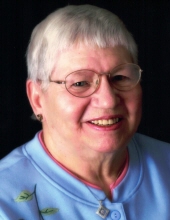 Obituary for Marion H. Hill
Marion H. (Bagley) Hill, 87.

Marion passed away peacefully in her sleep on May 2, 2021 with her family by her side. She and her twin sister Maime were born December 11, 1933 to Henry and Agnes (Isaacson) Bagley.

Marion is survived by her children Randy (Delnice), Mary (Jim Gilbert), Sara (Jeff Simon); Kris (daughter-in-law); 8 grandchildren and 11 great grandchildren. Also survived by brothers Don, Floyd and Lloyd (Boo).

She was preceded in death by her husband Robert; and sons, Jeff (Mountain) and Michael (Ogre). Also preceded in death by infant daughter; sister Maime Klade; brothers Harry, Bob, Harold and Henry Bahlow; and stepmom Erna (Bahlow) Bagley.

Marion loved spending time with her family, friends and neighbors. She also enjoyed a special relationship with her husband's family. A small family service will be held. In lieu of gifts and flowers pay it forward in kindness to others.

The Taylor-Stine Funeral Home, Merrill is assisting the family. Online condolences may be made at www.taylorstinefuneralhome.com.
Read More