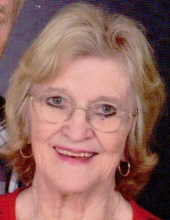 Obituary for Margaret E. Robl
Margaret Ellen Robl, 84, of Merrill, passed away April 13, 2020 at her home under the care of her family and hospice.

Margaret Ellen Hamlin was born in Merrill, Wisconsin on July 15, 1935 to the late James and Margaret (Running) Hamlin. She graduated from Merrill Senior High School in 1953, and then attended Lincoln County Normal School for one year. She married her childhood sweetheart, Anthony Robl, on July 23, 1954. Together, they raised seven children and several foster children and operated the family farm. The family constructed a man-made pond in 1973 and the couple built their dream house just above it. Margaret worked for Lincoln County Department of Social Services until her retirement. She then worked for several years at Merrill Monument Company and also prepared income tax returns. Tony and Margaret enjoyed traveling, especially to Deadwood, South Dakota. Tony preceded her in death on April 21, 2012. In November 2016, Margaret married Joseph Lato in Thorp, Wisconsin. He survives. They also enjoyed traveling to casinos together.

Margaret is survived by four sons, Keene (Debra) Robl, Mark Robl, Alan (Tammy) Robl, and Anthony (Jeri) Robl, Jr.; three daughters, Ann (Chris) Clabots, Colleen Robl, and Rita Robl; husband, Joseph Lato; step children, Roy (Judy) Lato, Jean (Randy) Kadolph, Joan (Fred) Petke, Mary (Fred) Fravert, and Rita Dion; grandchildren, Marcella (Joshua) Cordova, Hilary (Todd) Schulz, Kyle Robl, Trisha Spransy, Justin Robl, Scott (Hannah) Robl, Valarie (Mike) Samuelson, Neil Jackson, Tracy Lemon, Ellen Mondeik, and Lauren Case; and great-grandchildren, Hunter and Margaret 'Maggie' Cordova, Tanner Schulz, Mason Spransy, Allyson and Jillian English, Avery Piotrowski, Taryn Leigh Robl, Adalynn Wisher, Jaxon Alan Robl and Scarlett Robl, and Jacob and Jerimiah Samuelson. Margaret is further survived by her sisters, Elaine Schultz, Eunice Langlois, and Claudia (Jim) Roberts; and brothers, Reid (Lois) Hamlin, William (Mary Lou) Hamlin, and Wayne Hamlin. She was preceded in death by her husband, Anthony Robl, Sr.; parents, James and Margaret Hamlin; sisters, Alice 'A.J.' O'Day, Esther Wittkop, and Grace Lorraine Liberty; brothers, Edmund Hamlin, James Hamlin, and Joseph Hamlin; and brothers-in-law, Joseph Robl and Frank Robl.

Private family services will be held at a later date. Taylor-Stine Funeral Home & Cremation Services, Merrill, is assisting the family with arrangements.

In lieu of flowers, memorials in Margaret's name may be made to Lincoln County Humane Society or a charity of your choice.
Read More
Events