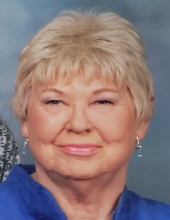 Obituary for Mabelle E. O'Connor
Mabelle E. O'Connor, 87, formerly of Rothschild, passed away Friday, March 27, 2020 at Bell Tower Residence, Merrill.

Mabelle was born November 2, 1932, in Kansas City, Missouri. She married Gerald 'Jerry' O'Connor on June 30, 1956. He preceded her in death on February 28, 2020. Mabelle graduated from Central Missouri State University with a teaching certificate and taught in southern Wisconsin for several years.

Mabelle enjoyed oil painting and was an accomplished artist. She was a member of the Wausau Art Guild for several years. She also enjoyed reading and crocheting. Mabelle loved playing 'penny poker' with her close friends; a game that eventually evolved into 'nickel and dime poker' with her family. She enjoyed visiting her daughter and son-in-law's cabin on Seven Island Lake in Harrison and fishing the lake with her family. Mabelle spent many summers at her Auntie Carrie and Unkie Rex's cabin in Lake of the Ozarks. Eventually, Mabelle and Jerry purchased this property from Carrie and Rex.

Mabelle is survived by her daughter, Kathleen 'Katie' (Randy) Frokjer of Merrill; son, Mike (Renee) O'Connor of Texas; grandchildren, Becca (Andrew Banhozer) Frokjer, Carey O'Connor, and Nick (Olivia Guo) O'Connor; great-grandson, Mac Green; sister, Carrie 'Keaner' (Jeff) Jenkins of Kansas City, Missouri; niece, Cynthia Gallagher of Kansas City, Missouri; and several great-nieces and great-nephews. Mabelle was preceded by her husband, Gerald 'Jerry' O'Connor; niece, Cathy Pyper; and Auntie Carrie and Unkie Rex Shineman.

A memorial mass for Mabelle and Jerry will take place at a later date. Taylor-Stine Funeral Home & Cremation Services, Merrill, is assisting the family.
Read More
Events
Event Information
Services will be set for a future date to be determined.