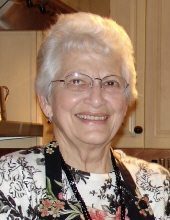 Obituary for Lydia D. Bauman
Lydia D. Bauman, age 92, of Merrill passed away on Sunday, May 24, 2020 at her home surrounded by her family, loving caregivers, and under the care of Aspirus Hospice Services.

Lydia was born June 29, 1927 on the family farm in Irma, Wisconsin, the daughter of Luigi and Mary Pezzi. She was a first-generation Italian American. She attended Schulz Spur School, a one-room country school, and then moved to Merrill to attend Merrill High School, graduating in 1944. Her first job was the Ration Office in Merrill, which operated during World War II, and where she met her future husband. She later worked at Merrill Woolen Mills in the office. She married Stanley Bauman on December 13, 1952 at St. Francis Catholic Church, with the wedding reception at the Badger Hotel in Merrill. Lydia and her husband were the co-owners and operators of Merrill Millwork, which they founded in 1966. Lydia enjoyed gardening, golfing, bowling, painting, Bridge Club, volunteering in the community and at her church. Above all, Lydia was a very caring and generous person, and very dedicated to her near and extended family. She was very active in the Refugee Resettlement Committee at St. Robert Bellarmine Catholic Church, where she worked with several Laotian families who she remained close to for many years. Lydia along with her family generously donated the gazebo at Normal Park in Merrill, and she was actively involved in its design and completion.

Lydia is survived by two daughters, Ann (Stephan) Bauman-Kunz, Minocqua, and Mary Bauman (Dan Jackson), Gleason; her grandchildren, Tori Bauman (Ben Asmundsen), Nick Bauman, and Alex (Bobbie) Carlson all of Merrill, Lee (Liza) Carlson, Wausau, Charlotte Kunz (Tim Lindquist), Bolder Junction, and David (Anastasya) Kunz, Arlington, Virginia; her great-grandchildren, Remy Bauman, Stanley, Lola, and Aubrey Carlson, William and Sam Lindquist, and Leon and Lillian Kunz; and her special caregiver and companion, Maria Mercado. Besides her parents and husband, Lydia was preceded in death by her son, William 'Bill' Bauman; and eight siblings, Hugo, Oswald, Alfred, Aldo, Deana Trinitapoli, Joanne Wendorf, Erio, and Dahlia.

The family would especially like to thank all the wonderful caregivers who have so tenderly and devotedly looked after Lydia in her home for the last several years, as well as the staff of Aspirus Comfort Care and Hospice Services.

Memorials may be directed to the Friends of Normal Park or the Merrill Community Food Pantry.

Private services followed by burial will take place at St. Francis Xavier Cemetery, Merrill. Taylor-Stine Funeral Home & Cremation Services, Merrill is assisting the family.
Read More
Events
Cemetery Details
Location
St. Francis Xavier Catholic Cemetery
Merrill, WI