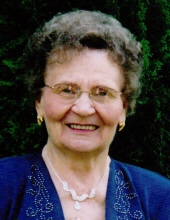 Obituary for Lucille I. Pophal
On March 23, 2017, Lucille Irene Margaret Nass, Pophal (Jaeger), age 89 of Merrill, Wisconsin went to her Heavenly Home to live forever with Jesus Christ, the Lord and Savior she trusted and believed in her entire life.

She was born on March 28, 1927, in Lincoln County. She was the eldest daughter of the late Albert and Hulda Jaeger. She married Marvin E. Nass on October 23, 1948 in the Town of Pine River. He preceded her in death on January 14, 1988. She married Edward R. Pophal on May 11, 1991 in Merrill. He preceded her in death on June 27, 2015. She was a member of Trinity Lutheran Church, Merrill.

Lucille was a dedicated wife and caregiver of her first husband Marvin Nass for over ten years. She taught her family the value of patience and dedication. Prior to that time period, she worked at Weinbrenner Shoe Company in Merrill for over twenty years. Faith and family were a very important part of her life. In her earlier years, she enjoyed cooking, baking, gardening, canning, dancing, polka music, playing cards, family birthdays and other celebrations. In her later years, she enjoyed going out to eat, polka music and spending time with family and friends.

She is further survived by her 8 children, 13 grandchildren, 20 great-grandchildren, two great-great-grandchildren, other relatives and friends. They were an important part of her life. She will be sadly missed.

Survivors include eight children: Allan (Diane) Nass, Wausau; Ralph (Linda) Nass, Wausau; Glenn (Elaine) Nass, Merrill; Dennis Nass, Wausau; Karen (John) Bloechl, Merrill; Sharon (Paul) Pugnier, San Diego, CA; Susan (Jeff) Forster, Merrill and Brian (Marge) Nass, Gleason.

Also surviving are two sisters, Lydia (James) Goetsch, Merrill and Caroline Krause, Merrill; one brother, Dale (Ruth) Jaeger, Hazlehurst; and two sisters-in-law Lois Jaeger, Merrill and Dorothy Jaeger, Merrill. Two brothers preceded Lucille in death, Milfred Jaeger and Norman Jaeger.

The funeral service for Lucille will be at 11:00 A.M. on Tuesday, March 28, 2017, at Trinity Lutheran Church in Merrill. The Rev. Scott Gustafson will officiate. Burial will take place in Merrill Memorial Park Cemetery. The visitation will be from 4:00 P.M. until 7:00 P.M. Monday at the Taylor-Stine Funeral Home, Merrill, and after 9:30 A.M. Tuesday at the church.

The family would like to sincerely thank the Pine Crest nursing staff and CNAs, the Hospice staff, and each of the Pastors, for the excellent care given to our mother. Also, a very special heartfelt thank you to Margaret English, who was a wonderful caring roommate for our mother while at Pine Crest.

In lieu of flowers, please consider making a donation to Trinity Lutheran Church, 107 N. State Street, Merrill 54452; Pine Crest Nursing Home, 2100 E. 6th Street, Merrill 54452; or Aspirus Comfort Care and Hospice Services, 333 Pine Ridge Blvd, Wausau 54401.

Online condolences may be shared at www.taylorstinefuneralhome.com.
Read More
Previous Events
Visitation
Taylor-Stine Funeral Home
903 E. Third St.
Merrill, WI 54452
Visitation
Trinity Lutheran Church
107 North State Street
Merrill, WI 54452
Service
Trinity Lutheran Church
107 North State Street
Merrill, WI 54452