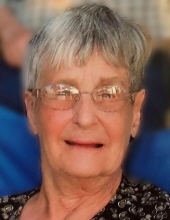 Obituary for Lois N. Benzinger
Lois N. Benzinger, 81, of Merrill, passed away Friday, July 16, 2021 at her home under the care of her family and Compassus Hospice.

Lois was born March 18, 1940, in Elmhurst, Illinois, daughter of the late Clark and Tabitha 'Erna' (Broschied) Lonie. She was joined in marriage to the love of her life, Gary Benzinger on October 19, 1963, at St. Francis Xavier Catholic Church, Merrill. He survives. Lois always had a smile on her face and a kind word for everyone she met. She loved life, animals, nature/flowers, sweet treats and ice cream from Grand Stand, walking and riding her bike with her dog in the basket. Most of all, she loved her family, having dinners together and holidays – especially Halloween when she would put a mask on and hand out candy to the kids. She also enjoyed getting dressed up and looking her best for special events. She was loved by many and will always be remembered for her beautiful spirit.

Survivors include her husband, Gary Benzinger of Merrill; her daughter, Leah (Lee) Kroll of Hudson, Wisconsin and their children, Sadie Kroll of Milwaukee, and Annalee Kroll of St. Paul, Minnesota; her son, Tabb (Renee') Benzinger of Hudson, Wisconsin and their children, Tyler (Abby) Benzinger of Greenville, North Carolina and their children, Madeleine, Oliver, and Matilda, Rachel (Shannon) Jack of Eau Claire and their children, Vivian, Ellasyn, and Rhett, and Erik Benzinger of Merrill and his daughter, Charlotte; her sister, Ilona (Wayne) Moraitis, of Viera, Florida; her cat, Cole; and her in-laws, Phillip Benzinger of Thorp, Jack Benzinger of Sturgeon Bay, Carol (Jerry) Bird of Wausau, Sandy (Perry) Ackeret of Stevens Point, Colleen (Larry) Lasecki of Green Bay, and Scott (Julie) Benzinger of Wausau. Lois was preceded in death by her parents, Clark and Tabitha 'Erna' Lonie; her siblings, infant Gail Lonie, Glenn Lonie, and Clark 'Scott' Lonie; and her beloved pets, O'Toole, Mitzy, and Pepper.

A private memorial service will be held. Burial will take place in St. Francis Xavier Cemetery, Merrill. Taylor-Stine Funeral Home & Cremation Services, Merrill, is assisting the family with arrangements. Online condolences may be made at www.taylorstinefuneralhome.com

In lieu of flowers, memorials may be directed to the Lincoln County Humane Society - 310 N. Memorial Dr., Merrill.

The family wishes to extend their heartfelt appreciation to the many Hospice caregivers who were so kind to Lois and her family for the past 4 ½ years. Their loving care will never be forgotten.
Read More
Events
Cemetery Details
Location
St. Francis Xavier Catholic Cemetery
Merrill, WI