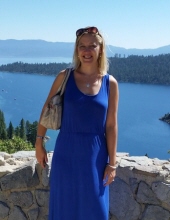 Obituary for Lisa M. Berndt-Fischer
Obituary of Lisa Fischer (nee Berndt)

Lisa Berndt Fischer passed away peacefully on March 23, 2018, in Dayton, KY, surrounded by family. She is survived by her husband, John Fischer; parents Arlo and Eunice Berndt; brothers Todd (Debbie) and Dean (Trina) Berndt; in-laws John and Sharon Fischer and Jennifer (John) Schroer; nieces and nephews Anneliese, Bryce, Tamber, Brittany Berndt, Megan (Travis) Kleinschmidt, Christa (Kyle) Christiansen and David Schroer; and many more extended family members and friends. She was preceded in death by brother Scott Berndt (Jan Lemmer). In lieu of flowers, memorials may be made to the SPCA or the Freestore Foodbank.

Lisa was born in Wausau, WI, and grew up in Merrill. She earned her bachelor's degree from Stevens Point College. In 1999, Lisa moved to Lexington, KY, for two years, and then to Cincinnati, OH. There, she met John in 2009. They were married on September 9, 2011, and made a home in Dayton, KY. For the rest of Lisa's life, she and John remained as much in love as they were on the day they exchanged vows. They honeymooned in Italy and continued to enjoy traveling together throughout their marriage. Other favorite trips included Hawaii, San Francisco, San Diego, Hollywood, New Orleans, Lake Tahoe, Mexico, and Las Vegas. At home, Lisa and John loved spending time with their dogs Mugsy and Maggie, hosting game nights and other gatherings with friends and family, and patronizing local performing arts organizations.

Lisa's kind, accepting, and fun-loving personality attracted a wide circle of friends in many different cities. Lisa loved spending time with these friends, both in town and traveling to destinations such as France, Key West, the Bahamas, Montreal, and Birmingham. Anyone who spent time with Lisa will remember her warm, distinctive laugh and her generous spirt.

This generosity led her to seek involvement in many charitable activities. Lisa dedicated her time and support to animal shelters, food banks, Habitat for Humanity, Ronald McDonald House, and other local charities. She and John entered Mugsy and Maggie into the Therapy Dog Program, through which they lifted the spirits of patients at University Hospital and a nursing home.

Lisa's compassion was returned when friends rallied around her as she battled cancer. Lisa remained positive and hopeful throughout her fight, and she was determined to spend her days building new memories with those close to her. It is a testament to Lisa's character that so many people traveled from across town and across the country to say good-bye. Despite those good-byes, Lisa's laughter and kindness will remain in the hearts of those who were lucky enough to know her.

Visitation is scheduled for Tuesday, March 27th from 6:00 - 8:00 Pm at Don Catchen & Son Funeral Home, Elsmere and on Saturday, March 31, 2018 from 9:00 - 11:00 AM at St. Stephens United Church of Christ, Merrill, Wisc 54452, Funeral Service will follow at11:00 AM at the church. Burial will be in Merrill Memorial Park Cemetery, Merrill, Wisc.

Online condolences may be made at www.taylorstinefuneralhome.com.
Read More
Previous Events
Visitation
St. Stephens United Church of Christ
903 E. Second St.
Merrill, WI 54452
Service
St. Stephens United Church of Christ
903 E. Second St.
Merrill, WI 54452
Cemetery Details
Location
Merrill Memorial Park Cemetery
Memorial Drive
Merrill, WI 54452