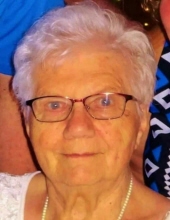 Obituary for Lila M. Schleif
Lila Martha Schleif celebrated her 93rd birthday with her journey to heaven on July 6, 2020. Lila was born July 6, 1927 at home in the Town of Scott. She was the first child of Edward and Della Schulz Sense, first generation children of Pomeranian settlers. Lila was baptized, confirmed and married by Rev. Walter Piehler at St John's Lutheran Church, just north of the home farm. She attended Wisconsin River School, a miles' walk from home, through eighth grade. She continued her education at the Vocational School in winters and worked part-time at Weinbrenner Shoe inking Navy shoes.

She met the love of her life Ted Schleif with an invitation from her friend Ruth Schleif Grell to visit at their home for the weekend and a blind date set up by their friends Millie and Fritz Latzig. On June 19, 1948 she married Theodore (Ted) Schleif and "jumped the river" to start their life together on their Town of Pine River farm. This union lasted 59 years until Ted's passing in 2009. They prospered in farming and agri-business because of their strong work ethic and tenacity, and they raised their children to work as a team and assume responsibility. Lila loved the cows and Ted loved being out in the field. In retirement Lila and Ted enjoyed gardening on 1.5 acres and selling produce at the Merrill Farmer's Market. They enjoyed the camaraderie of friends and customers there. Lila was quiet and humble and Ted loved to talk and visit. Together they raised 5 children: Ronald (Kathy) Schleif, Rosanne Schleif, from Merrill, Brian (Roseann) Schleif, Sr., Poynette, Barry (Karen) Schleif, Merrill and Laurie (Beryl) Upp, Seymour, WI. Lila was blessed with 16 grandchildren and was happy to care for them as needed while growing up: Christopher (Becky) Schleif, Jennifer (Michael) Scott, Rebecca (Michael) Wiederhoeft, Timothy Schleif, all from Merrill. Brian (Kelly) Schleif, Jr, Fond du Lac, Branden (Amanda) Schleif, Oshkosh, Bradley Schleif, Menomonee Falls, Erica (Casey) Linnell, Aurora, Colorado, Laura (Matthias) Rabelo, Mosinee, Matthew Barry Schleif (deceased), Sara (Brandon) Seubert, Marathon, Christa Schleif, Merrill, Jesse (Michelle) Upp, Appleton, Jason (Elaine) Upp, Falls Church, Virginia, Brianna (Tony) VandenHeuvel, Irma, and Molly (Samuel) Gill, Bloomington. IL. She was also happy to celebrate the births of 18 great grandchildren: Hailey Fawley, Jacob Schleif, Sadie and Sydney Schleif-Roberts, Brayden, Mason and Kaitlyn Wiederhoeft, Lakeyn and Jordan Schleif, Emerson Schleif, Charlie Linnell, L'ena Rabelo, Justin, Emily and Elliott Upp, Nolan Upp, Liam and Ivy VandenHeuvel. She is further survived by her inlaws Ruth Grell, Schofield, and Stuart and Mildred Burrows, Merrill, her dear Aunt Betty Ann Voelz and many nieces and nephews. Lila was preceded in death by her parents, Edward and Della Sense, her husband Theodore, and brother and sister-in-law LeRoy and JoAnn Sense, her infant siblings Ramona and Amos Sense and her grandson Matthew Schleif.

Lila was a lifelong member first of St. James Church and later Calvary Lutheran Church Town of Pine River. She served in many helping roles at church, the WELCA group, Sunday School, singing in the choir and quilting. She also enjoyed living in her close -knit neighborhood, and getting together with her homemaker club friends. She always looked forward to the County Fairs, especially the 4-H exhibits and watching all the grandkids and neighborhood kids at the livestock shows.

Lila's funeral will be held at Calvary Lutheran Church (N365 Cain Creek Rd.), Town of Pine River on Saturday, July 11, 2020. Visitation will be from 1-3pm prior to services at the church. Reverend Phillip Schneider will officiate. Burial will be at St. James Cemetery, Town of Pine River.
Taylor Stine Funeral Home is assisting the family with arrangements.

The family asks visitors to bring their masks and practice social distancing for the sake of safety and protection of those in our family who have compromised health at this time.

Lila's obituary and online condolences may be made at: www.taylorstinefuneralhome.com.

Memorials may be made to Calvary Lutheran Church or Pine Crest Nursing Home attn: Garden Fund or your choice of charity.

The family of Lila wishes to thank Brianna VandenHeuvel, Heather Brown, Hope, aids, nurses and staff at Pine Crest Nursing Home for their loving care, her roommates Barb, Marge and Ramona for their kindness, Bruce from Aspirus Palliative Care, Dr. Clancy and staff at Aspirus Wound Care, Ascension Emergency Care in Merrill, the Aspirus Medical team and her medical guardian Becky Wiederhoeft.
Read More
Previous Events
Visitation
Calvary Lutheran Church
N365 Cain Creek Road
Merrill, WI 54452
Service
Calvary Lutheran Church
N365 Cain Creek Road
Merrill, WI 54452
Memorial Contribution
Pine Crest Nursing Home Garden Fund
2100 E. 6th St.
Merrill, WI 54452