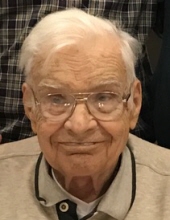 Obituary for LeRoy F. Dahm
LeRoy F. Dahm, 93, Merrill, passed away peacefully on Tuesday June 6, 2017 at Woodland Court Assisted Living.

He was born September 25, 1923 to the late Harry O. and Esther (Ollhoff) Dahm in the Town of Scott, Lincoln County.

He married Elaine Hulke on April 23, 1949 at the St. John's Lutheran Church, Merrill, WI.

LeRoy grew up during the Great Depression. His strong values and determination gained from these experiences served him well throughout his life and were passed on to his children and grandchildren. He worked as a paperboy for the Milwaukee Journal and Merrill Herald from the age of 11 thru high school to help supplement the family's income. At the age of 15, he and his brother, Harry, purchased their first car for $5.00: a 1926 Chevy. He attended Jefferson Grade School and Merrill Jr. High.

LeRoy graduated from Merrill High School with the Class of 1941. He was very active in sports, lettering in Football and Baseball (1939-1941). One of his most memorable experiences was playing football against the future pro football Hall of Fame member, Elroy "Crazylegs" Hirsch, in a classic and highly publicized match-up between Merrill High and Wausau High School in 1940. (Merrill lost but scored 2 touchdowns against the Wausau powerhouse). LeRoy became a Merrill H.S. Diamond-M member in 2014. While in high school, he played the violin and was first chair violin in the Merrill H.S. Orchestra. He established a lifelong appreciation of music. His love for music ranged from classical, to country and western, to polka. He played semi-pro baseball as a catcher for the Merrill Rangers (1947) and also for the U.S Naval team at Great Lakes, Illinois (1948-1949).

Leroy was a Veteran of the US Navy and served for 30 years: beginning in 1942 and retiring in 1973. During WW II he served as a machinist mate on several troop carrier ships and participated in two major battles in the south pacific: Bougainville (1943) and Green Islands (1944). After the war, he specialized in Electronics and Communications Technology and was an Electronics instructor at the Great Lakes (Illinois) Naval Training Center for a large part of his navy career. From 1959 to 1962, Leroy was transferred to the Naval Communications Station in Ethiopia. There he was assigned as an electronics technician responsible for maintaining the Navy communications systems. After 30 years in the Navy, he continued for an additional 10 years as a contract electronics instructor at the Great Lakes Naval Electronics School. During this time, he created some of the electronics training material used by the Navy for basic electronics computer based training courses.

He had a passion to always keep busy, even during "retirement." After his career in the U.S. Navy, he applied his skills in electronics to help friends and family members. He wired the electrical systems for four houses and a hunting shack. He also enjoyed repairing TVs and radios for family members and friends in his famous electronics repair lab in the basement of his Waukegan, IL home. He worked up until age 79 as a gardener for two "older" customers in the Waukegan area. He was an avid sports fan and particularly liked watching Merrill H.S., UW, and Green Bay Packers football as well as Stanford and Milwaukee Brewers baseball. He enjoyed reading, gardening, and traveling to visit his children and grandchildren.

While serving with the U.S. Navy, LeRoy and his family were stationed at several military bases including Great Lakes, Illinois and Asmara Eritrea (Ethiopia) in Africa. LeRoy and Elaine's first two children, Philip and Susan, were born at Great Lakes and his third child, Laurie, was born in Asmara, Eritrea. LeRoy and his family ultimately settled in Waukegan, IL, where he and Elaine lived until 2007. After leaving Waukegan, Leroy and Elaine spent their final years in Merrill, Wi where both had siblings and extended family. LeRoy and Elaine provided a nurturing and supportive family life for their three children.

Leroy has been an inspiration to his children, grandchildren, siblings and extended family. He will be greatly missed. Survivors include his daughters: Laurie (Andrew) Segal of San Francisco, CA, Susan (Frank) Bilban of Frisco, TX and son Phil (Ruth) Dahm of Cupertino, CA, 8 grandchildren and two great-grandchildren. He is also survived by his sisters Harriet Henrich, Carol Finanger, Marlene Krueger, and brother Harry F. Dahm as well as many nieces, nephews and cousins.

He was preceded in death by his parents, wife Elaine, sister Annette, and brother Jim.

Services will be held at the Taylor-Stine Funeral Home in a private memorial.
Read More
Events