Obituary for Leota M. Davis
Leota M. Davis, 84, of Merrill, formerly of Irma, passed away Saturday, April 10, 2021 at Woodland Court Elder Services, Merrill under the care of Aspirus Hospice Services.

Leota was born May 30, 1936 in Irma, Wisconsin, daughter of the late Emil and Mildred 'Tuddy' (Dettmering) Ricci. She married John J. Davis on August 31, 1957. He preceded her in death on June 22, 1995. Leota graduated from Merrill High School in 1954. She attended Lincoln County Teachers College and graduated in 1956. She earned her Bachelors of Science degree from University of Wisconsin – Stevens Point in 1967.

Leota began her teaching career in 1956 teaching at one-room schoolhouses. Those schools included Newwood, Schulz Spur, and North Star. In August of 1962, she accepted a position with Merrill Area Public Schools (MAPS) teaching math and science at the junior high and eventually taught only 7th grade math. Mrs. Davis retired in June of 1993, after devoting 37 years of her time to teaching many children in the Merrill area. She loved nothing more than to see the students she taught succeed. So many of those students have reached out to Mrs. Davis throughout the years to thank her for the time she spent with them and for being a great teacher.

In earlier years, Leota volunteered with the Rock Falls Rod and Gun Club. She served as a bartender and helped serve at special events. She also assisted with organizing bands for their weekly polka dances. During the yearly Hunters Ball, she bartended, collected door prizes, and made and served food.

Leota was a lifelong member of St. Stephens United Church of Christ, Merrill. She taught confirmation classes, Sunday school, and Vacation Bible School. Leota also hosted and served Coffee Hours and provided kitchen help for special dinners including funerals and Lenten meals. She served on the Membership and Evangelism Committee for many years. Leota provided nursery care at church when her children were younger and also served as a greeter and lay reader during church services. She served on the church council and held the office of vice president for one year. She visited shut-ins and wrote out Christmas cards for nursing home residents.

Leota was a member of the Eagle's Auxiliary Club since 1985. Years ago, she volunteered for Tuesday night steak night dinners. She organized, chaired, and volunteered for pancake breakfast benefits. Leota cooked and volunteered for many parties and special events, and bartended at the Eagle's Club beer stand at the Lincoln County Fair. Leota held several offices for the local auxiliary including; President, Vice President, Treasurer, and Conductor.

In 1995, Leota became a volunteer with Good Samaritan Health Center. She was on the Board of Directors for volunteers, she volunteered in the gift shop and at the reception desk. She assisted with organizing and working for the yearly Holiday Bazaar and volunteered at the Book Fair and community blood bank.

Through the Retired Teachers for MAPS, Leota volunteered at the Brickyard Schoolhouse during the Lincoln County Fair. She also volunteered as a reader for Headstart, tutored students, chaperoned dances, and organized and worked at school carnivals.

Leota volunteered for over 20 years with the SHARE Food Program in Merrill. She assisted with packaging food and served as the coordinator for several years.

Leota served as the President for the former Irma Lioness Club and assisted with Special Olympics and the one and only Irma State Fair.

Leota received the Jefferson Award in October of 2011 acknowledging her dedication to her teaching career and the community of Merrill. Leota also received the Merrill Area Public Schools Teacher of the Year Award in 1980.

Leota loved to travel. She visited many places including: Alaska in 2003, Italy in 1992 and 2000, Germany in 1996, and Norway in 1988. She also enjoyed trips to California, South Dakota, Texas, and Florida. For the past 26 years, Leota also enjoyed taking part in annual family vacations with her children and grandchildren.

Leota had a love for cardinals and filled her home and wardrobe with the beautiful birds. She was also a collector of bells and had a special hutch built to hold most of her collection.

Survivors include her daughter, Brenda Rowe of Merrill; son, Brad Davis (Tammy Johnson) of Irma; grandchildren, Brian Rowe (Cammie Schram) of Merrill, Douglas Davis of Irma, Donna (Paul) Frick of Gleason, Deanna Davis of Gleason, and David Davis of Bolingbrook, Illinois; great-grandchildren, Maddie, Paul Jr., and Hiedi Frick; foster brothers, John (Sonya) Yellstrom of Howards Grove, Wisconsin, and Louis (Sally) Yellstrom of Merrill; and her lifelong best friend, Audrey Germic of Merrill. Leota was preceded in death by her husband, John Davis; parents, Emil and Mildred 'Tuddy' Ricci; and son-in-law, Tim 'Doughboy' Rowe.

Public visitations will be held from 4:00 P.M. until 8:00 P.M. on Friday, April 16, 2021 at the Taylor-Stine Funeral Home, Merrill, and from 9:00 A.M. until 11:00 A.M. Saturday, April 17, 2021 at St. Stephens United Church of Christ, Merrill. Due to capacity limits, a private family funeral service will be held at 11:00 A.M. The Rev. Michael Southcombe will officiate. Burial will take place at Merrill Memorial Park Cemetery. Masks and social distancing will be required at both the funeral home and the church.

Online condolences may be made at www.taylorstinefuneralhome.com

To send flowers in memory of Leota M. Davis, visit the Tribute Store.
Previous Events
Visitation
Taylor-Stine Funeral Home
903 E. Third St.
Merrill, WI 54452
Visitation
St. Stephen's United Church of Christ
903 E. Second St.
Merrill, WI 54452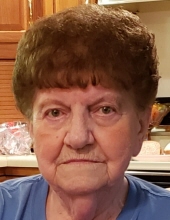 Thank you for sharing your
memory of Leota
Provide comfort for the family by sending flowers or planting a tree in memory of Leota M. Davis.
No thanks, please don't show me this again.