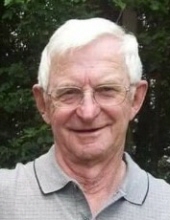 Obituary for Leonard James Krueger
Leonard J. Krueger, age 80, of Gleason passed away on Wednesday, October 28, 2020 at Pine Crest Nursing Home, Merrill.

Leonard was born July 4, 1940 in the Town of Schley, Lincoln County, son of the late Reinhart and Ella (Prueser) Krueger. He married Sharon Fisher on August 5, 1967. She survives. Leonard was a member of the Operating Engineer's Local 139 and at the time of his retirement he was working at Merrill Sand and Gravel. Leonard had also worked with Herb Leder, Larry Steinfest, the Town of Russell, Walter Pilhofer, and with his brother Donald at Krueger Excavating. Leonard enjoyed deer and bird hunting, trout fishing, and car rides. For many years Leonard served as a volunteer firefighter with the Town of Russell Fire Department and had attained the rank of captain. Leonard served in the U.S. Army from 1963 until his honorable discharge in 1965. He was a military policeman.

Survivors include his wife Sharon Krueger of Gleason; two daughters, Lynn (Rick) Coenen of Shiocton, and Lisa (David) Hershey of Merrill; one son, James Krueger of Gleason; a son in law, Ivan Dorgan of Gleason; eight grandchildren, Christopher, Chelsey, Joshua, Jessica, Lindsay, Kelsey, Courtney, and Kyle; one great grandchild, Adela; one sister, Jeanette Sommi of Merrill; and one brother, Kenneth (Mitzi) Krueger of Wausau. Besides his parents, Leonard is preceded in death by a daughter, Heidi Dorgan; a sister Dorothy (Bill) Hommerding; a brother, Donald (Betty) Krueger; and a brother in law, Jake Sommi.

A private family memorial service will be held. Online condolences may be made at www.taylorstinefuneralhome.com.
Read More