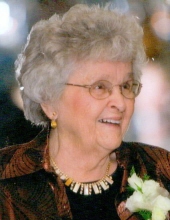 Obituary for Lenore E. Ehlert
Lenore E. Krueger Ehlert, 100, of Merrill, passed away Wednesday, November 8, 2017 at Woodland Court Elder Services, Merrill.

Lenore was born August 16, 1917 in the Town of Berlin, Marathon County, daughter of the late William and Adeline (Giese) Lemke. She married Elmer 'Ommie' Krueger on September 11, 1937, the beloved father of her children Sally and Charles. Elmer preceded her in death on July 19, 1952. Lenore went on to marry Carl Sholund and later Quinten Swiggum whom preceded her in death. She later married George Ehlert on May 20, 1995 and he preceded her in death on April 18, 2003.

Lenore was a member of St. Stephens United Church of Christ, Merrill, since 1937. She worked as a dental assistant in Merrill for ten years and owned and operated a laundromat in Clintonville for fifteen years. Lenore was a member of the T.L.C. Club and the Birthday Club. She enjoyed reading and keeping up with local and world news, working on cross word puzzles, dancing and traveling. She was an avid Milwaukee Brewers and Green Bay Packers fan. This past August, Lenore and her family and friends gathered to celebrate her 100th birthday. As a part of that celebration, Lenore enjoyed tributes from the Merrill Police Department, the Lincoln County Sheriff's Office and local, state and national elected officials.

Survivors include her children, Sally (Gay) Oberg of Merrill and Dr. Charles (Maripat) Krueger of Menomonie, Wisconsin; five grandchildren, Lynn Dotter (Jeff Hinz), Scott (Julie) Oberg, Kristin (Scott) Hildebrandt, Kyle (Erin) Krueger and Kimberly (Josh) Kluge; twelve great-grandchildren; two great-great-grandchildren; and a nephew, Richard (Carol) Giese. Lenore was preceded in death by her parents, William and Adeline Lemke; her husbands, Elmer Krueger, Carl Sholund, Quinten Swiggum and George Ehlert; and her sister, Le Elda Giese.

The funeral service for Lenore will be held at 11:00 AM on Tuesday, November 14, 2017, at St. Stephens United Church of Christ, Merrill. Rev. Kyle Carnes will officiate. Burial will take place in Merrill Memorial Park Cemetery, Merrill. Visitation will begin at 9:30 AM Tuesday, November 14, 2017 at the church. Taylor-Stine Funeral Home & Cremation Services, Merrill, is assisting the family.

THE FAMILY SUGGESTS MEMORIALS BE MADE TO ST. STEPHENS UNITED CHURCH OF CHRIST, MERRILL.
Read More
Previous Events
Visitation
St. Stephen's United Church of Christ
903 E. Second St.
Merrill, WI 54452
Service
St. Stephen's United Church of Christ
903 E. Second St.
Merrill, WI 54452