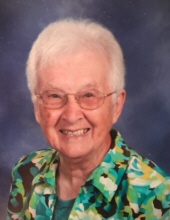 Obituary for Leah Jean Riemer
+ Leah Jean Riemer

God gave life to Leah on July 10, 1933 at Tomahawk, Wisconsin, a gift of God to her parents William and Margaret (Marheine) Krueger. God came to Leah in His Word and established a covenant of grace with her in her baptism as an infant at St. Paul Lutheran Church in Tomahawk. She confirmed the faith given in her baptism in the Rite of Confirmation. The Triune God continued to remind her of His presence and sustain her faith through Word and Sacrament throughout her life.

After graduating from Tomahawk High School she worked at the Tomahawk Chamber of Commerce. She married Dr. Leonard Adams on April 22, 1953. To that marriage two sons were born. They later divorced. On August 22, 1966 she married Harold Riemer. They farmed and added to the family three more sons and a daughter in Pine River Township, rural Merrill, Wisconsin. In1986 the family moved to Defuniak Springs, Florida. Harold and Leah built a home in Inverness, Florida and moved there in 1997. Leah moved to Ottawa, Kansas in June, 2014.

Leah loved serving the Lord through teaching Sunday School, going to Bible studies, participating in LWML, serving on boards and committees, weeding every flower bed she could find, and was very faithful in worship. She also loved gardening and was a great baker and cook. Faith, family, and friends were her life's greatest joys.

God reached down and gave Leah the final victory at the age of 85 on Sunday, July 29, 2018. She is survived by her sons Rev. Charles Adams (Laura), William Adams (Amy), Dr. Douglas Riemer (Jennifer), Neal Riemer (Sarah), Gustav Riemer (Jennifer), and daughter Karen Mya Riemer (Kevin Jennings); 13 grandchildren, and 7 great-grandchildren; sister Marsha Wilke, nieces and nephews. She is preceded in death by her parents, her husband Harold Riemer, granddaughter Ashley Riemer, sisters Merilee Freistadt and Mary Maloney, and brother William Krueger.

The family requests memorials be directed to The Lutheran Women's Missionary League (LWML).

Jesus said, "I am coming soon; hold fast to what you have, so that no one may seize your crown" (Rev. 3:11).

The funeral service will begin at 10:30 AM on Saturday, August 4, 2018, at St. Paul's Lutheran Church, Town of Pine River, Lincoln County, Wisconsin. Her son, Rev. Charles Adams will officiate. Burial will follow in the church cemetery. Visitation will begin at 9:00 AM Saturday at the church. The Taylor-Stine Funeral Home & Cremation Services, Merrill, is assisting the family.

Online condolences may be made at www.taylorstinefuneralhome.com.
Read More
Previous Events
Visitation
St. Paul's Lutheran Church - Pine River
W2608 County Road P
Merrill, WI 54452
Service
St. Paul's Lutheran Church - Pine River
W2608 County Road P
Merrill, WI 54452