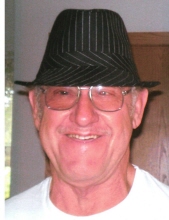 Obituary for Lawrence L. 'Ed' Oestreich
Lawrence L. 'Ed', Oestreich, 81, of Merrill, passed away unexpectedly on Saturday, December 3, 2022, at his home.
Ed was born September 4, 1941, in the Town of Harding, son of the late John and Dorothea (Zemke) Oestreich. He graduated from Merrill Senior High School in 1959. Ed married Carol A. Mussell on October 9, 1965, and later divorced. Together they share one daughter. Ed married Pamela S. Lotzer on October 22, 1984, and later divorced. Together they share one son.
Ed worked for the Lincoln County Highway Department from August 8, 1966, until his retirement in 2001. He was a hard worker all his life. Ed was an avid fisherman and hunter. On his down time, he enjoyed watching football and admiring all the wildlife that came to his house.
Ed's greatest pride in life was his children and grandchildren. He loved spending time with family and always looked forward to his Sunday's spent with his partner of 13 years, Bev. Ed was a fun-loving man who will be missed dearly by so many.
Ed is survived by his daughter, Brenda Siebers of Elkhorn; son, Joe (Kerstian) Oestreich of Boyceville; three grandchildren, Jesse Siebers, Kendra Oestreich, and Isabella Oestreich; partner, Beverly Berndt of Antigo; and sisters, Phyllis Merkel, and Violet Volz both of Merrill; He is further survived by close friends, Ron Volmer of Merrill, Gary Mootz of Merrill, and many other family and friends. Ed was preceded in death by his parents, John and Dorothea Oestreich; brother, Myron (Margaret) Oestreich; and an infant sister, Karen Oestreich.
The funeral service for Ed will be held at 11:00 A.M. on Saturday, December 10, 2022, at the Taylor-Stine Funeral Home, Merrill. Rev. Scott Gustafson will officiate. Burial will follow in Snow Hill Cemetery, Town of Scott. Visitation will begin at 9:00 A.M. Saturday at the funeral home.
Online condolences may be made at www.taylorstinefuneralhome.com
Read More
Previous Events
Visitation
Taylor-Stine Funeral Home
903 E. Third St.
Merrill, WI 54452
Service
Taylor-Stine Funeral Home
903 E. Third St.
Merrill, WI 54452