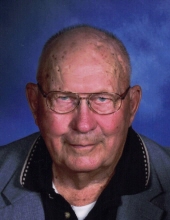 Obituary for LaVern James Kottke
LaVern J. Kottke, 89, of the town of Hamburg, Marathon County, passed away on Tuesday, October 26, 2021, at Aspirus Wausau Hospital.

LaVerrn was born February 1, 1932, in the town of Hamburg, son of the late Walter and Adelia (Kleinschmidt) Kottke. He married Phyllis Krause on September 11, 1954. She survives. LaVern was a dairy farmer and had owned and operated his own trucking company. He hauled logs, gravel, and anything else his customers requested. LaVern was a hard-working individual. He was a very generous and giving person who would do anything for anyone. LaVern enjoyed polka dancing, working in the woods, logging, and trucking. For many years LaVern was the sexton at St. Paul's Lutheran Church Cemetery in the town of Hamburg. He was a member of St. Paul's Lutheran Church in Hamburg where he served as an Elder and had served on many other church boards.

Survivors include his wife, Phyllis Kottke of the town of Hamburg; four daughters, Diane Kottke, Faye Kottke, Lucy Plisch, and Chris Draper, all of the town of Hamburg; six grandchildren Jon, Brian, Steve, Stephanie, Jennifer, and Melinda; thirteen great grandchildren Sadie, Brayden, Gauge, Airia, Bear, Hannah, Jeffery, Maddy, Allison, Macie, Bobby, Lauren, and Daniel; his siblings, Carol (Phillip) Krause and Marlene Kottke both of Merrill, Betty Kottke of Wauwatosa, JoAnne (Roger) Ruehs of Germantown, Kathy Kottke of Wauwatosa, Wayne (Evelyn) Kottke of Hamburg, and Wallace (Judy) Kottke of Merrill; and his in laws, Delmar Zocher and Marian Kottke both of Merrill, and Ginny Kottke of Wausau. Besides his parents, LaVern is preceded in death by his son-in-law Wayne Plisch; and siblings, Donald and Loyd Kottke and Marjorie Zocher and Phyllis (Gilbert) Krause.

The funeral will begin at 1:00 PM Friday, November 5, 2021, at St. Paul's Lutheran Church in the town of Hamburg. The Rev. Joel Danner will officiate. Burial will be in the church cemetery. Visitation will begin at 10:00 AM Friday at the church. The Taylor-Stine Funeral Home, Merrill is assisting the family. Online condolences may be made at www.taylorstinefuneralhome.com.
Read More
Previous Events
Visitation
St. Paul's Lutheran Church - Hamburg
12625 9th Ln.
Athens, WI 54411
Service
St. Paul's Lutheran Church - Hamburg
12625 9th Ln.
Athens, WI 54411