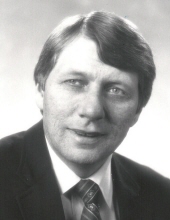 Obituary for Lance R. Nienow
Lance R. Nienow, 77, of Merrill, passed away Sunday, April 11, 2021 at Aspirus Wausau Hospital.

Lance was born October 20, 1943 in Merrill, son of the late Ralph 'Flash' and Adeline 'Addy' (Krueger) Nienow. Lance was the former President and C.E.O. of Weinbrenner Shoe Company in Merrill and was currently on the Board of Directors. Lance was a member of St. John Lutheran Church, Merrill.

Lance was born and raised in Merrill, where he later married, raised his own family and carried out a successful career at Weinbrenner Shoe company. He graduated from Merrill High School in 1961 and the University of Wisconsin-Madison in 1966 with a bachelor's degree in Political Science. After college he enlisted in the Army National Guard.

Lance started working at Weinbrenner Shoe Company in 1969. Over the years his positions included personnel, human resources, purchasing and operations. In 1992, he was promoted to CEO/president. He continued to work there for another 18 years before retiring in 2010. Lance played a significant role in keeping Weinbrenner shoes made in the USA. Lance's professional mission was based on his strong desire to keep manufacturing local and providing a high-quality product for the American work force. His impact on the manufacturing industry led to the opportunity to serve on the Wisconsin Manufacturing & Commerce Board.

Much of Lance's personal time was spent enjoying the following activities: hunting in New Wood at the Oxbow Lodge, fishing on Lake Nokomis, Superior and Michigan, boating and "relaxing" at The Point. Lance's love for the outdoors carried over into many of the organizations he was involved with. He served as a Natural Resources Education Instructor for over 30 years and was an active member of the Sportsman Club. Often you would find Lance working on carpentry projects, cutting wood or driving a utility vehicle. He never had a hard time finding something to do as keeping busy was his way of life.

Family was the foundation of Lance's life and he valued the time he spent with them and his friends. He was often seen as a mentor who provided guidance and wisdom, always supporting and encouraging others to achieve their potential. Lance took great pride in raising his two daughters and later in life was a loving and involved grandparent.

Survivors include his daughters, Nicole (Michael) Marcell of Ringle, and Carrie (Michael) Vanden Boom of Cincinnati; four grandchildren, Evan, Olivia, Conner, and Breckem; his significant other, Kathryn Spencer of Merrill; and his siblings, Van Nienow of Cottage Grove, Minnesota, Clark (Jan) Nienow of Appleton, and Nancy Nienow, Craig (Jeanne) Nienow, Brian (Sandy) Nienow, and Todd Nienow all of Merrill.

Public visitations will be held from 4:00 P.M. until 7:00 P.M. on Thursday, April 15, 2021 and from 9:00 A.M. until 11:00 A.M. Friday, April 16, 2021 all at St. John Lutheran Church, Merrill. Due to capacity limits, a private family funeral service will be held at 11:00 A.M. Friday. The Rev. Matthew Bless will officiate. Burial will take place at Merrill Memorial Park Cemetery. Masks and social distancing are recommended at the church.

The family requests that in lieu of flowers, memorial gifts in honor of Lance Nienow can be made to:
*Community Foundation of Northcentral Wisconsin at www.cfoncw.org , 500 First Street, Suite 2600, Wausau, WI 54403
*St. John's Lutheran Church, 1104 E 3rd Street, Merrill, WI 54452 or
*Lance Nienow Memorial, N2205 Rae Drive, Merrill, WI 54452 which will be dedicated to the Merrill Sportsman Club for the use of youth DNR education classes.

The Taylor-Stine Funeral Home & Cremation Services, Merrill, is assisting the family.
Read More
Previous Events
Visitation
St. John Lutheran Church
1104 E. Third St.
Merrill, WI 54452
Visitation
St. John Lutheran Church
1104 E. Third St.
Merrill, WI 54452
Cemetery Details
Location
Merrill Memorial Park Cemetery
Memorial Drive
Merrill, WI 54452